Our ceiling paint ideas explore how you can really make the most out of the often neglected 'fifth wall' in a room. Left a safe white for so long, ceilings are being given star treatment by interior designers and DIYers alike.
Enhancing a ceiling area with paint ideas can establish both an impactful and considered look that elevates your design scheme, quite literally.
Ruth Mottershead, creative director at Little Greene (opens in new tab) says, 'when painting a room, consider the ceiling within your color scheme. The ceiling is often painted white out of habit but this has a big impact on the way that the room will feel. There is a host of options that move away from traditional whites, bringing ceilings into the design scheme, or using them to create a design focus.'
Depending on your style, the size of the room you're planning to decorate and how much natural light it receives, there are a range of creative options for your ceiling paint ideas to choose from.
Ceiling paint ideas
Whether you want to make an impactful statement through a bold color choice, or use paint on the ceiling to trick the eye into making a room feeling bigger, when planning your ceiling ideas in the home, using paint can be a simple way to transform the look and feel of the space.
We have curated a selection of ceiling paint ideas to provide you with some beautiful inspiration for the ceilings in your space.
1. Embrace a bright and colorful design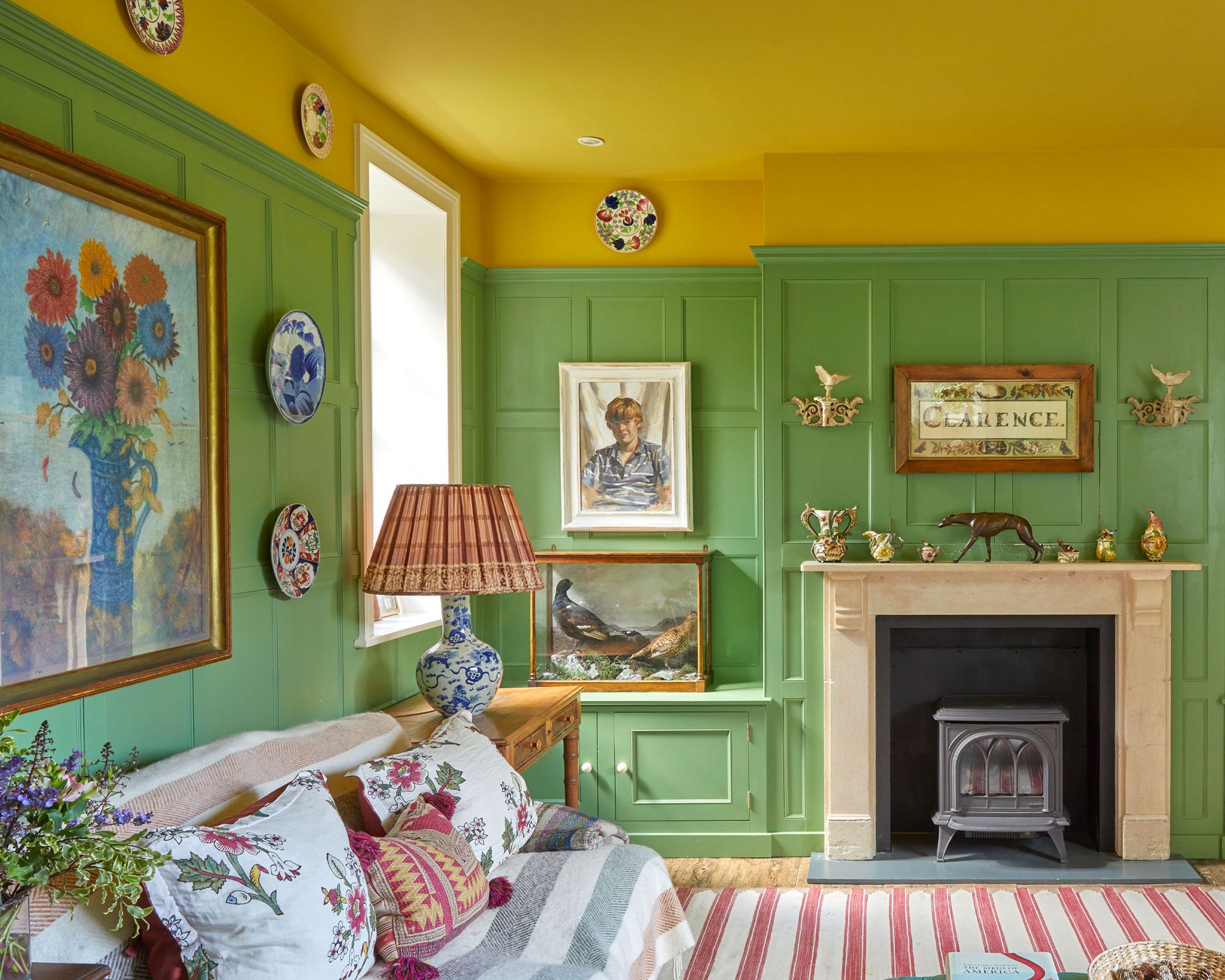 If you want to create a bright and colorful design in a room, including the ceiling in your scheme and choosing an eye-catching paint shade will ensure that the whole space is united through color. 
With this beautiful yellow and green room idea by Louisa Greville Williams of Vanrenen GW Designs (opens in new tab), the bright yellow paint creates a truly uplifting and spirited atmosphere. Paired with the painted green paneled walls, the use of color throughout creates an inviting, fun space that is utterly unique. Finished with an eclectic mix of wall decor and patterned upholstery and soft furnishings, this living room establishes a stunning mix of modern and classic design. 
Louisa states of the process for the room, 'I was driving home one day and saw this incredible yellow field of rape against a really vibrant green and just had a "ping" moment that I was going to recreate this combination and paint this room with a yellow ceiling and green walls. I absolutely love it, one of my favorite rooms and in the winter it makes it so cozy and warming. I have painted my kitchen the same yellow as there's no door so the yellow really flows through both rooms.'
2. Create a cozy environment in a bedroom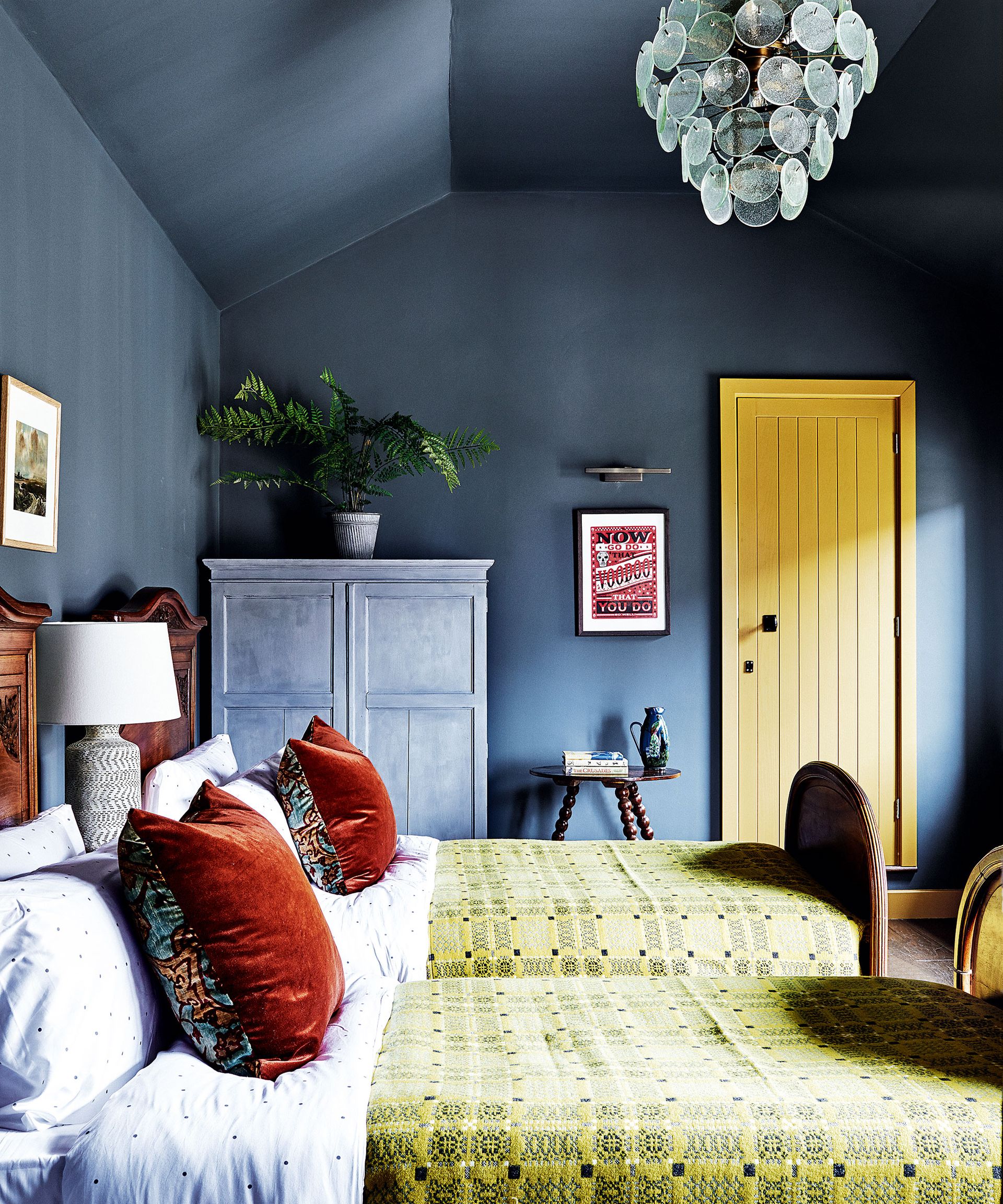 Using a dark paint color throughout your bedroom space for your bedroom paint ideas can help to create a cozy and snug environment. 
As shown in this beautiful bedroom, designed by Dunning & Everard (opens in new tab), the rich, dark blue paint used on the walls and ceiling creates an inviting, stylish design, with the dark color helping to make the perfect sleep space. 
We are often advised to steer away from using darker colors on the ceiling to prevent a room from feeling enclosed and claustrophobic, however, this room is a perfect example of how bedroom ceiling ideas can be elegantly done, with the dark blue paint lifted by the bright yellow painted door and lighter color palette used for the bedding. 
Justyna Korczynska, senior designer at Crown Paints (opens in new tab) states, 'with high ceilings you can put a darker color at the top to visually lover the height of the room, but in a room with lower ceilings, is better to keep the darker colors at the lower half of the wall.'
3. Create an unexpected element of contrast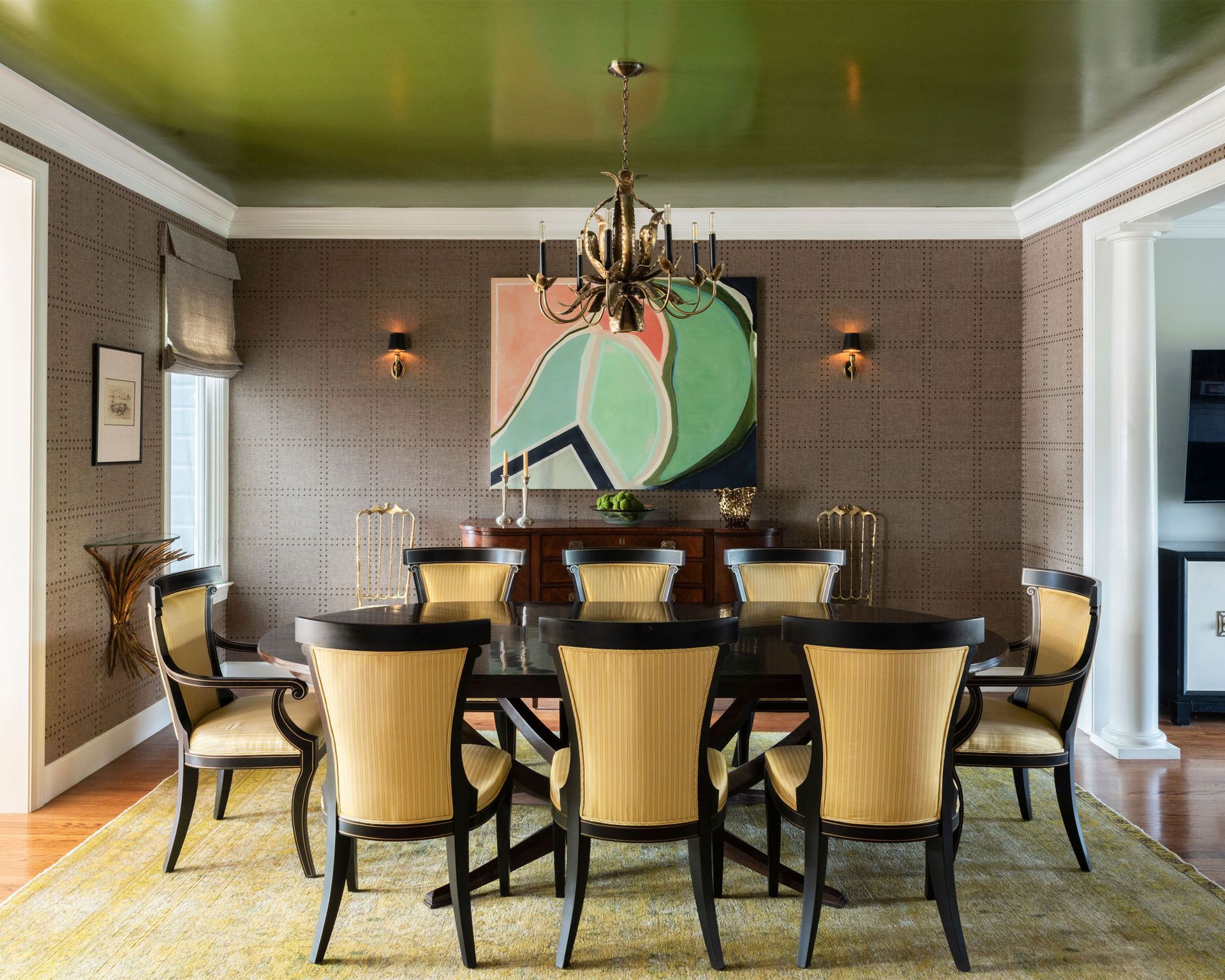 In this sophisticated, traditional dining room, defined by a classical, elegant look, the ceiling has been painted in a vivid bright green, creating a striking contrast and stylish design statement in the space. 
Designed by Margaret Ash Design (opens in new tab), she states, 'we lacquered the ceiling in a moss green high gloss paint and added a Wool Tween Phillip Jeffries (opens in new tab) Wallpaper'.
When deciding on the paint finishes for your ceiling paint ideas, gloss paint has a high-sheen, reflective quality, allowing for light to bounce off the surface, great for feature walls and for smaller rooms when you want to increase the feeling of light in the space.
The dining room is an area for conversation and entertainment with friends and family, with striking designs such as the above creating an eye-catching focal and talking point when people enter the room – a great option for kitchen ceiling ideas also.
4. Establish a beautiful color pairing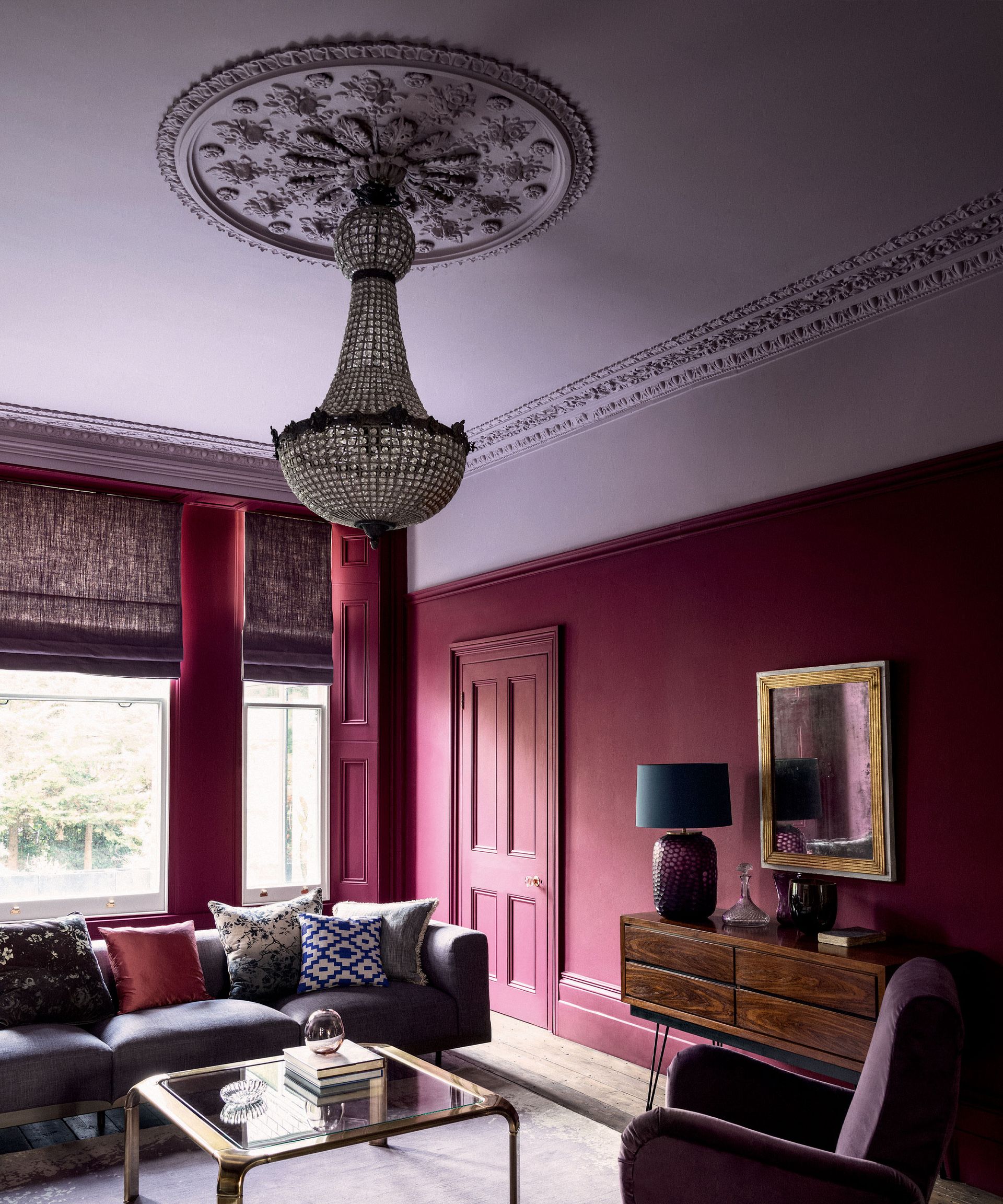 In this living room, painted in Grenache and Lady Char's Lilac by Paint & Paper Library (opens in new tab), the two purple shades work harmoniously together, creating a truly  luxurious space; a beautiful example of living room paint ideas.
Using a darker color on the walls or lower half of the walls can create a more grounding atmosphere, with a lighter color on the upper area and ceiling adding height and a feeling of space.
Andy Greenall, head of design at Paint & Paper Library says, 'for a cohesive feel, consider painting the skirting, wall and cornicing in the same color, with a lighter tonal shade on the ceiling to create a feeling of height. 'Grenache' on walls, woodwork and skirting works beautifully with 'Lady Char's Lilac' to bring that sense of drama, as well as the illusion of height.'
Whether you're torn between two of your favorite colors, or what to embrace lots of different shades, using ceiling paint ideas to establish a beautiful color pairing can create an impressive, two-toned look, one to remember for living room ceiling ideas.
5. Create a stand-out, immersive effect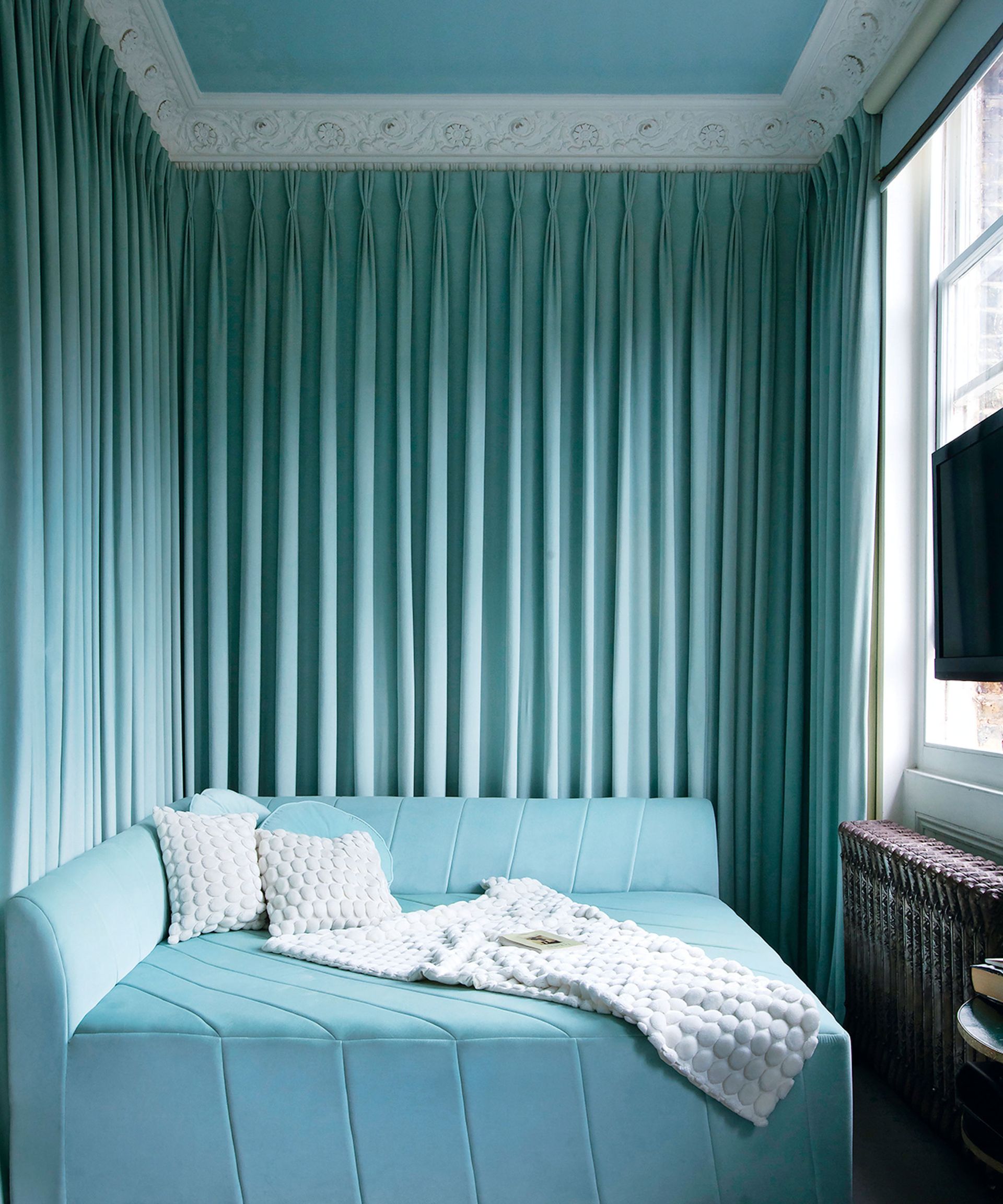 For a decadent, immersive design, choosing a bold, unexpected color for use throughout can create a truly artistic, stylish space. 
Mottershead states, 'I love to see the color drenching trend being embraced, with a single shade or closely related colors adorning everything from skirting to ceiling: walls, window frames doors and radiators. By immersing an interior in one color and incorporating all elements including the ceiling within the space, you can create a truly engaging scheme.'
This guest bedroom celebrates the vibrancy and uplifting qualities of the color turquoise, with the painted ceiling matching the color of the stunning square sofa bed perfectly, perfect for blue room ideas.
A guest bedroom is a great place to get creative with color, and as this space shows, painting the ceiling can bring the whole scheme together, adding a dynamic final flourish.
6. Use paint to ground a design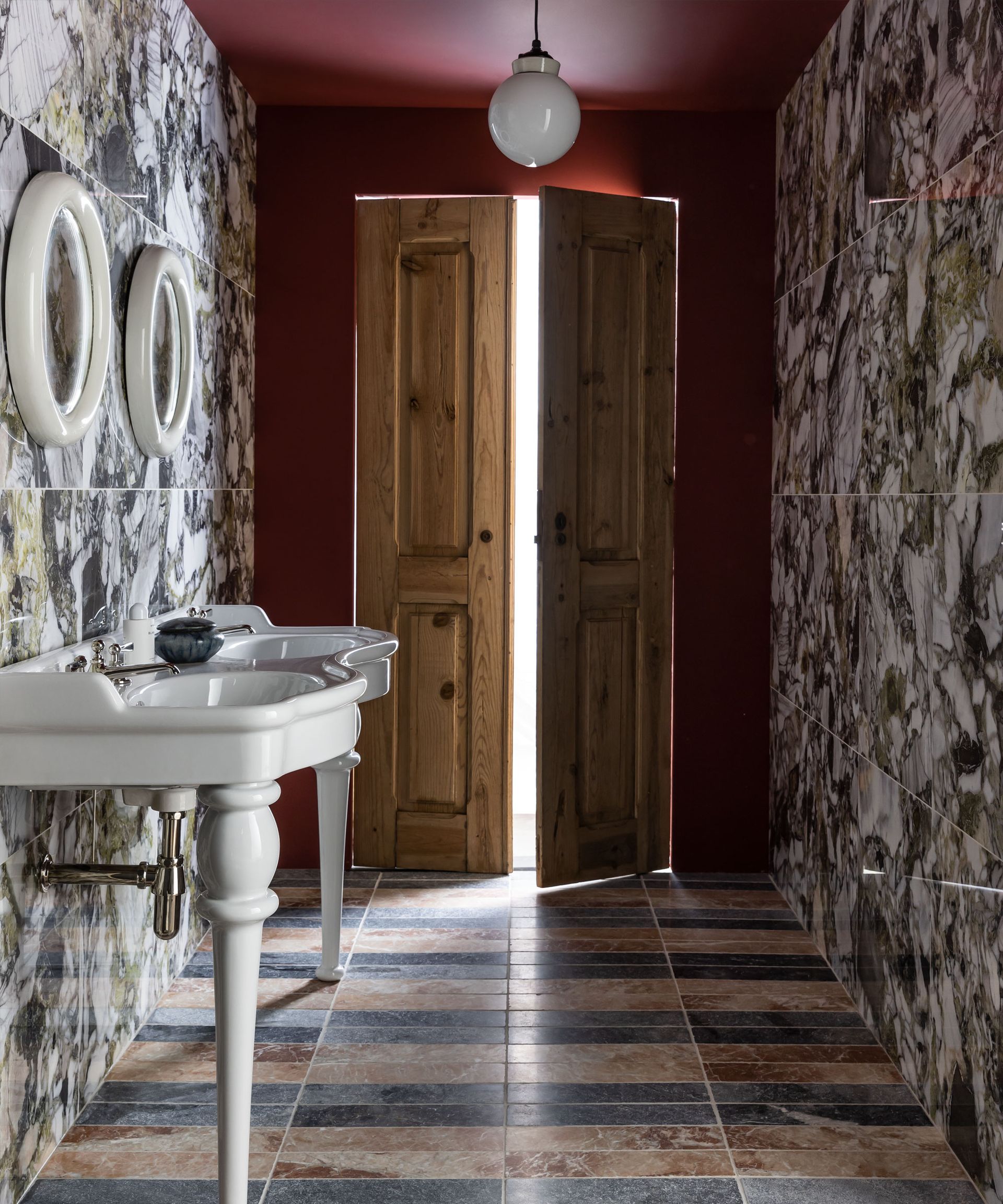 Paint truly is a versatile tool, it can be used not only to bring color into a room, but transform the way it looks and feels. From paint tricks that mimic different materials, to techniques that can help make a room feel bigger, do not underestimate the power of paint. 
In this bathroom, deep red paint has been used on one of the walls and the ceiling. This technique not only brings in a beautiful block color element, the use of paint adds a sense of calm and balance to the space in comparison to the impactful, marbled tile designs from Mandarin Stone (opens in new tab), one to remember for bathroom paint ideas.
When we think of making a room feel grounded and more balanced, painting the ceiling may not be high on the list of techniques, but as this bathroom shows, taking paint to the ceiling in a busy room can add a colorful and calming contrast, great for bathroom ceiling ideas.
7. Be bold with black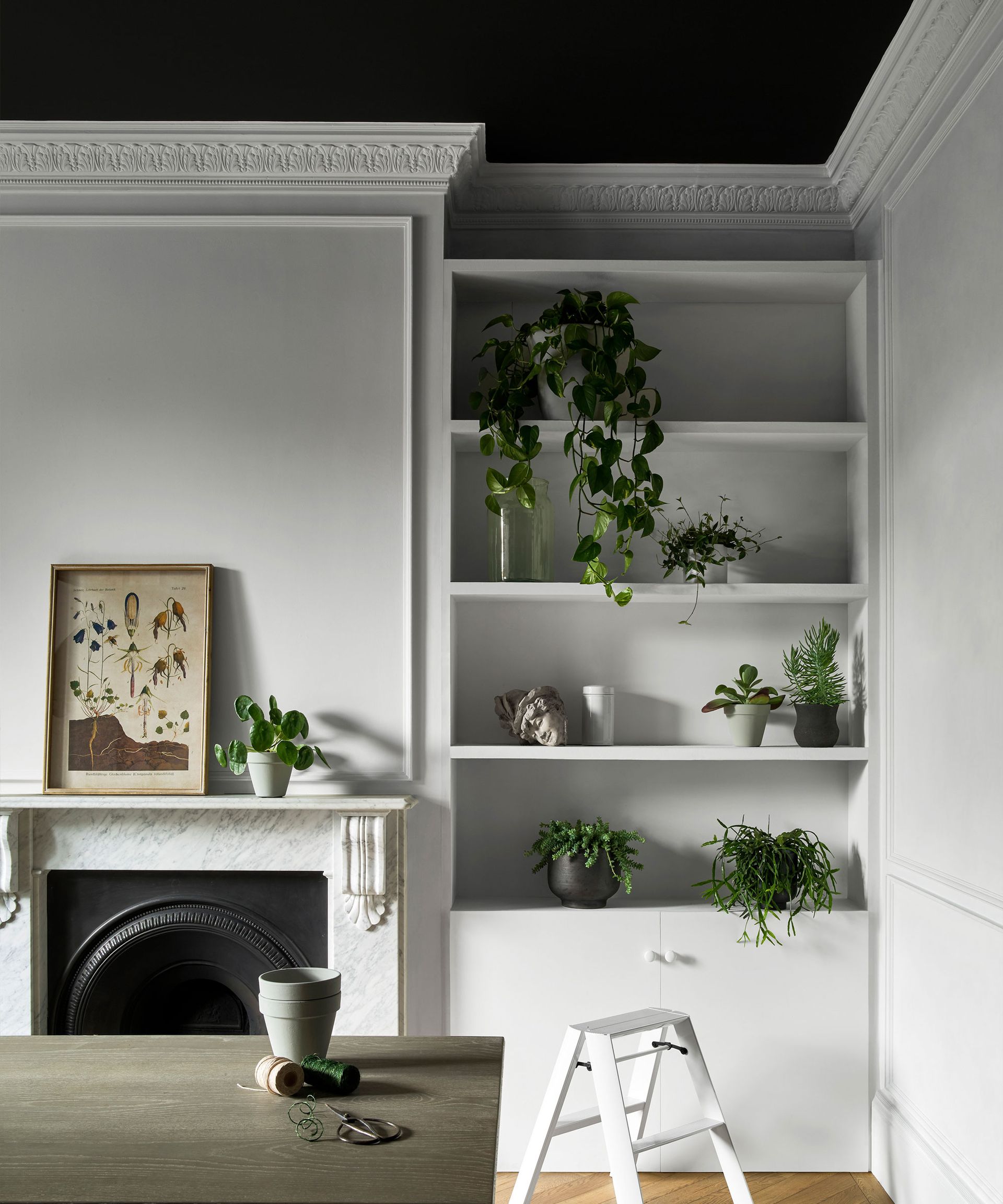 A black painted ceiling may make you imagine a dark and oppressive space, however the effect can be quite the opposite, as shown in this scandi-inspired, modern living space by Paint & Paper Library. 
Greenall states, 'If you inherently want to maintain a neutral color scheme on walls and trim, consider bringing a deeper statement color to the ceiling to instill a sense of drama and imagination, or perhaps even a discreet surprise.'
The black painted ceiling is perfectly balanced by the white painted walls, with natural elements such as the green plants, wooden floor and dining table adding warmth and contrast to the black and white room. 
Korczynska says, 'working with bold, dark colors should be all about balance. Always make sure you incorporate neutral and pale features into the room, whether that's through furniture, accessories or other paint colors, that will light up the space.'
8. Create a subtle, textured effect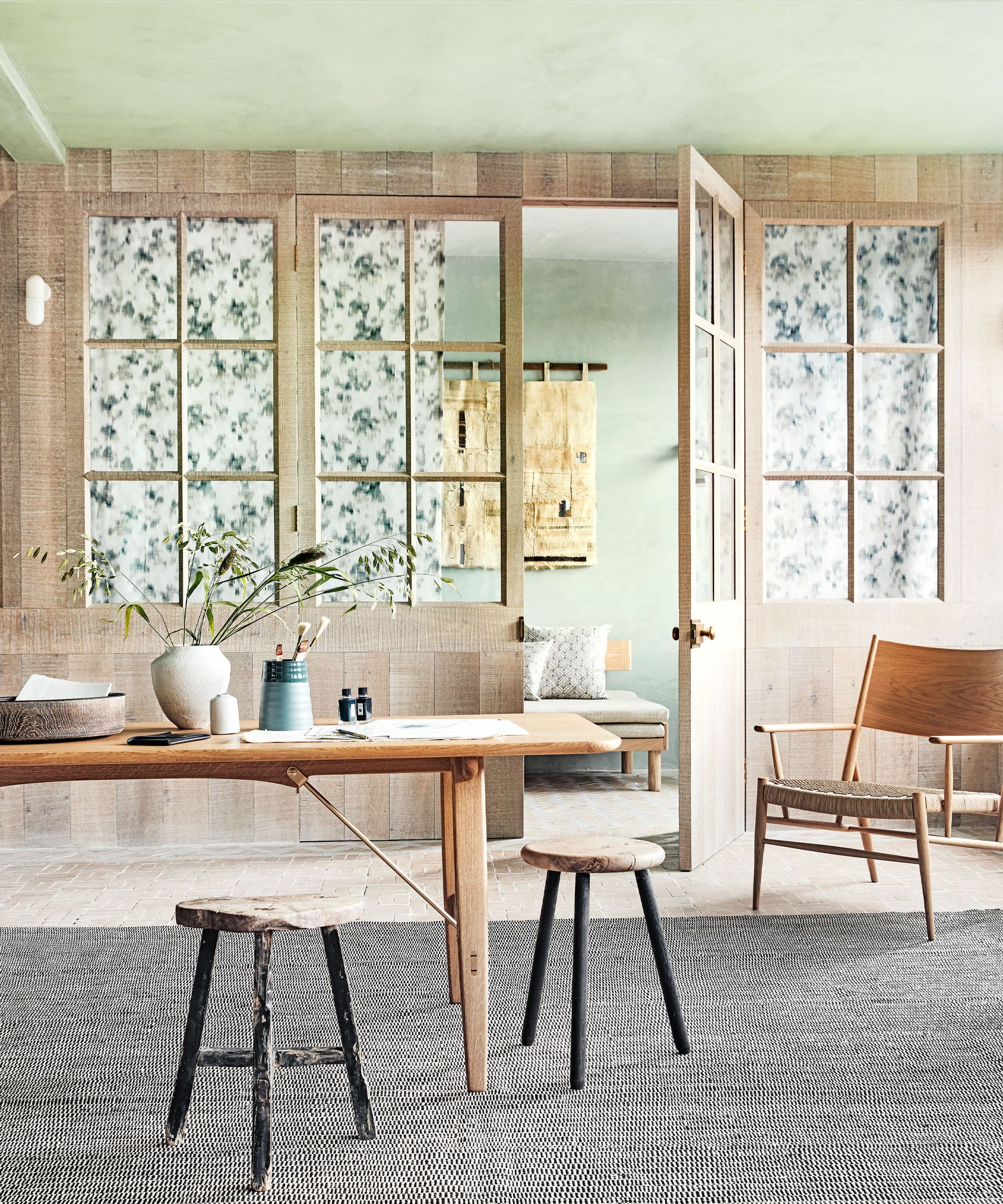 For a more natural, rustic look for your ceiling paint ideas, choosing a limewash paint can create a beautiful, textured appearance that can add depth and character to your space.
One of the most popular paint finishes for use in the home in recent years, limewash paint can establish a soft and inviting look. 
In this room, the mottled green painted ceiling works perfectly with the nature inspired, rustic design, great for green room ideas. Mirroring the textures and movement found in the paneled wooden walls and stone flooring, the limewash effect is the perfect option for this space. 
Adding a bright element of color and enhancing the connection to the natural world with the use of green, this painted ceiling design establishes a calming, restful look that feels simple and organic.
9. Use a palette of tonal colors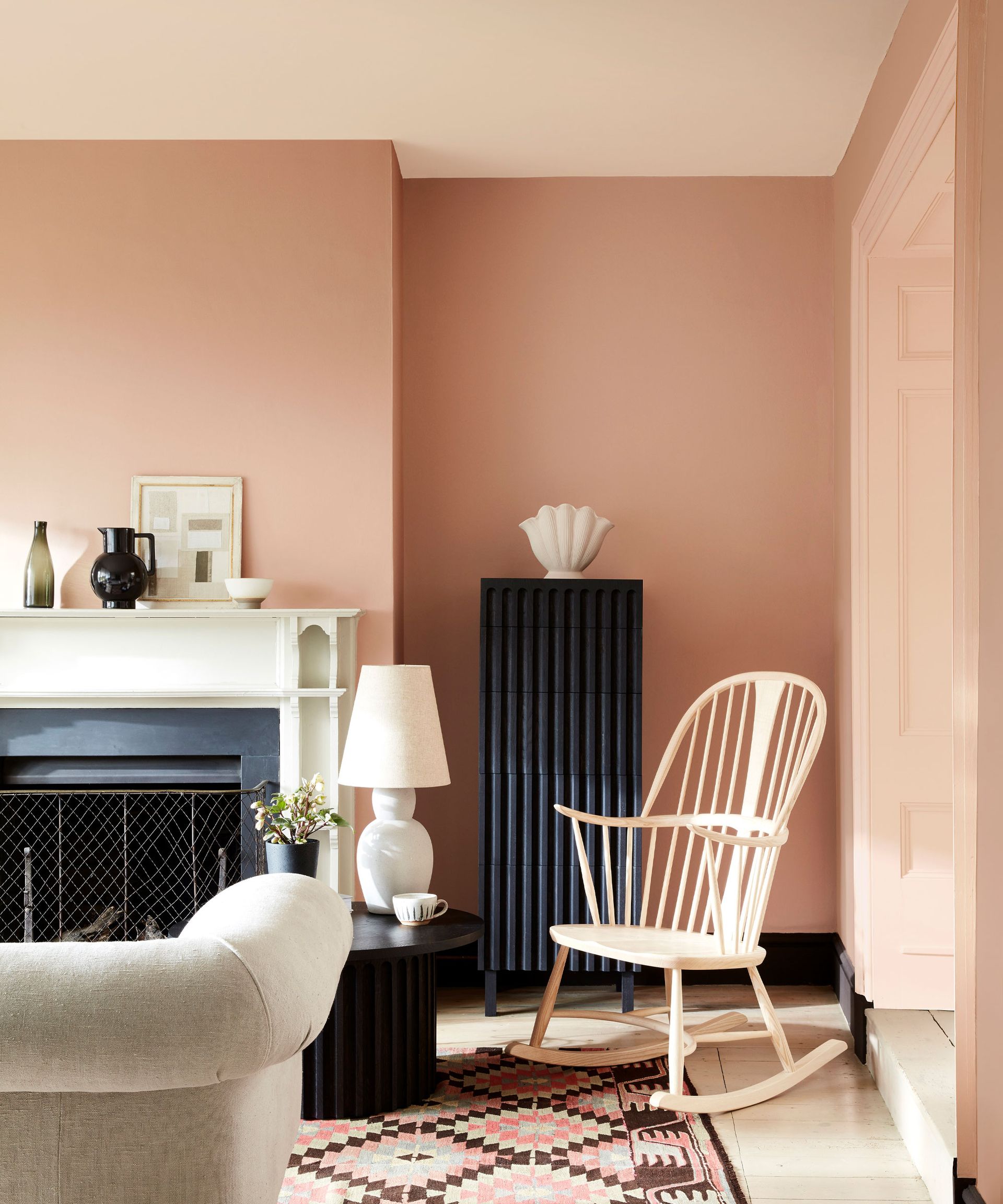 When looking at the color wheel, a tonal color scheme is made up from various shades of one color, and this can be a great choice for when deciding on the color palette for a room and for your ceiling paint ideas. 
In this pretty pink living room, painted in Julie's Dream and Masquerade pinks by Little Greene, Mottershead states, 'for a considered coordinated feel, combine colors from the same color scales families for a harmonious finish. Use a deeper strength of the same pigment on walls, alongside a lighter shade on the ceiling for a gentle contrast. 
Our delicate, powder-like hue, Masquerade, adds warmth to a space, offering an uplifted and calm atmosphere. By using it alongside Masquerade Light and Masquerade Mid, you can create a harmonious design scheme with plenty of design interest. These graduated tones are easy to use in combination on walls, ceiling and woodwork and provide a seamless color journey, either from room to room or within a larger space.'
10. Create a stand out, decorative design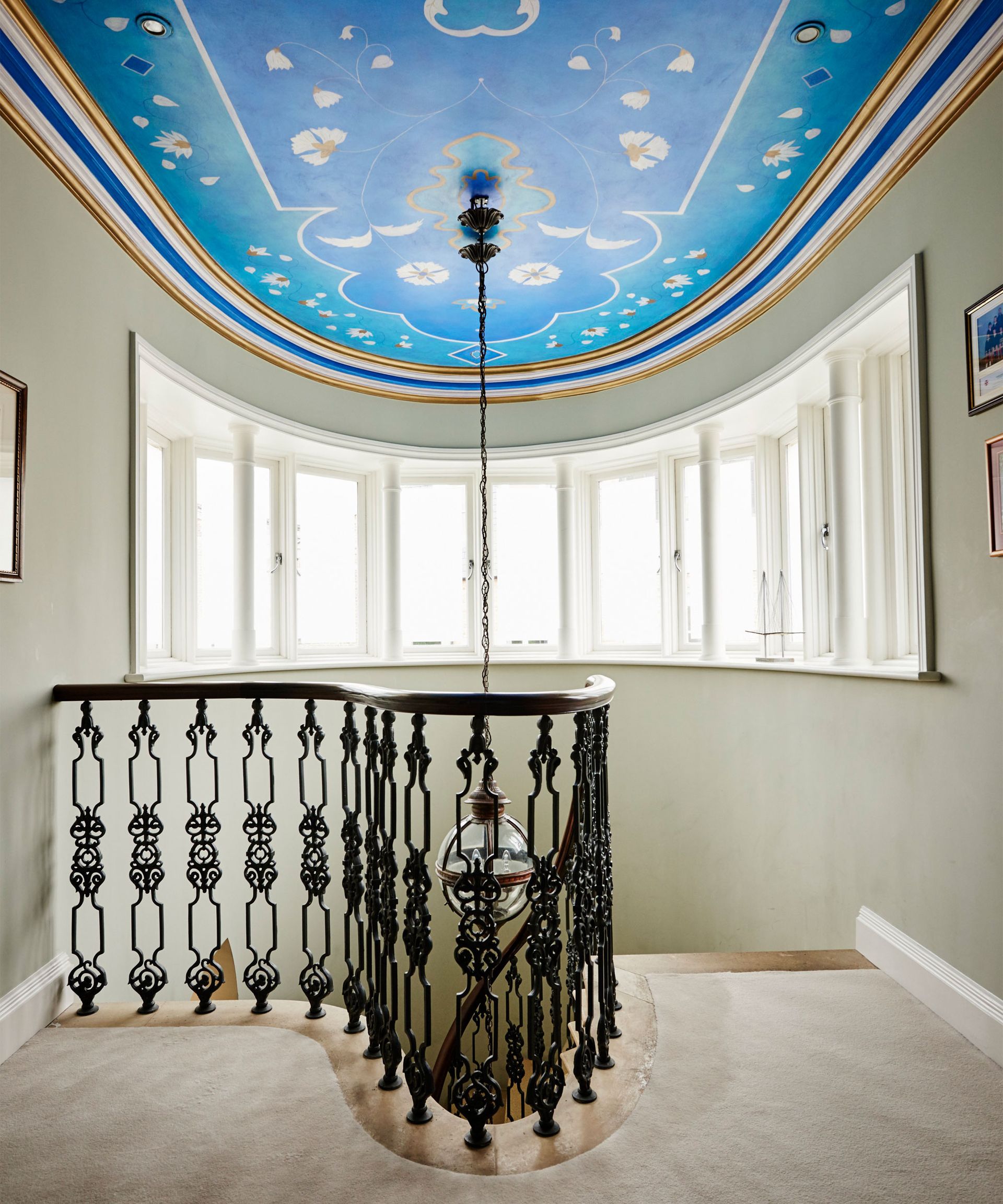 Artistic mural ideas and decorative paint designs have been used on ceilings in buildings for centuries, from grand cathedrals, to historic stately homes. 
Traditional ceiling design, adorned with ornate details, murals and intricate detailing has been replaced by a more clean and uncluttered look in the modern home, with white paint used for ease and adaptability.
Whether you want to bring back a sense of grandeur and classical elegance to your ceiling, or paint a unique, abstract pattern, painting a decorative design can make a real statement, no matter the style or age of your home.
As shown above this stairwell, the stunning, blue patterned ceiling instantly captures your attention, creating a bold, stand-out focal point. With the neutral palette used throughout the rest of the space allowing for the decorative design to take center stage, this beautiful painted ceiling shows just how creative you can be with your ceiling space.
What is the best color for a ceiling?
There are many factors to consider when choosing the right color for your ceiling paint ideas.
Painting a ceiling a lighter color can make a room feel more spacious and bright, however, when paired with other neutrals and brights, a dark color can work just as well. 
If you want to create an impact, choose a bright bold color, or choose to paint the whole room in the same shade for a unique, immersive effect.
There is no right or wrong answer for ceiling paint ideas, ultimately, it depends on your style and how you want to incorporate color into a space, but considering the ceiling as a possible surface to cover with paint can make a room feel like it has been thoughtfully styled to perfection.
For guidance on the perfect paint finish for your ceiling, check out paint finishes for ceilings explained.
Should a ceiling be painted the same color as the walls?
The ceiling shouldn't necessarily be painted the same color as the walls. In many painted rooms, the ceiling is often left white, with color used on the walls. 
However, you can create beautiful designs with the use of more than one paint color in a room, whether you want to establish a sense of contrast or create an inviting tonal scheme, being adventurous with color and paint can make for a unique interior design.