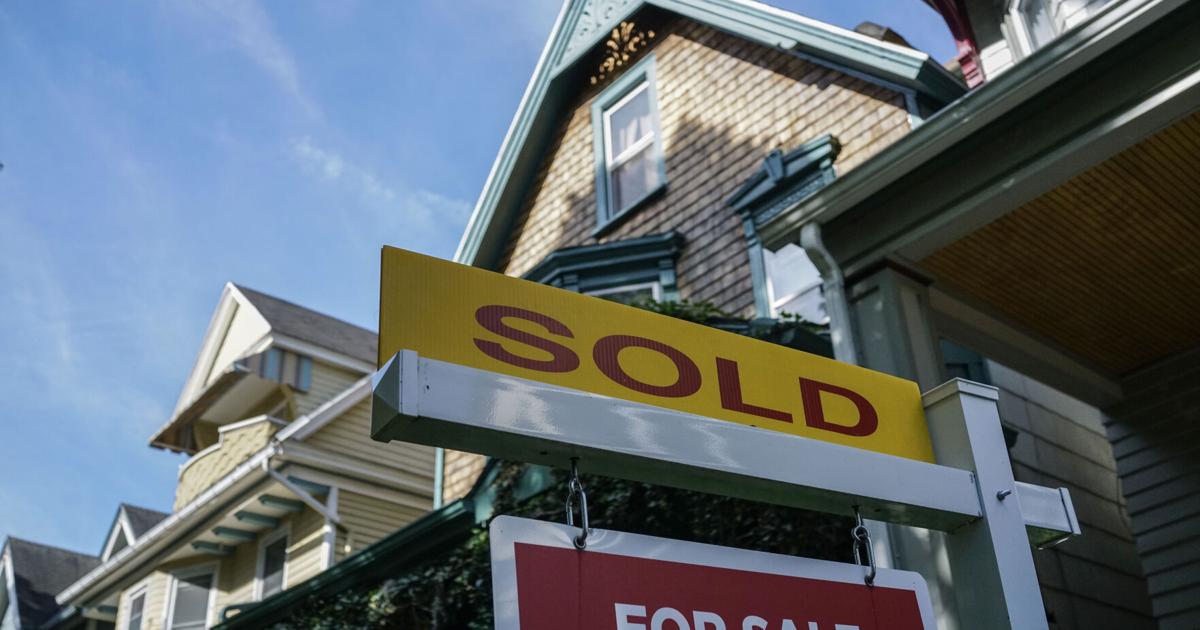 Following are real estate transactions over $5,000 as listed in records of the Erie County clerk's office for the week ending May 5, 2023.
12180 Westwood Rd, Andrew Enser to Melissa Ann Enser, $418,000.
1354 Countyline Rd, John T Blackwood to Jonathan E Wysomierski, Sarah F Wysomierski, $260,000.
12113 Walden Ave, Lucas A Cellino to Russell M Smith, Jenna R Cellino, $224,000.
11643 Broadway, 11643 Broadway Car Wash Llc to Adam Mazzariello, $215,000.
V/L Genesee St, Marvin W Snyder, Martin M Snyder to Carl Burgio, $155,000.
135 Evans St, The Blocher Homes Inc to Blocher Homes Housing Development Fund Corporation, $1,235,000.
104 Brockton Rdg, The Marrano/Marc Equity Corporation to Randler Susan Banks, $869,900.
5150 Main St, Rm Newell Co Inc to Iskalo 5166 Main Llc, $800,000.
52 Summer Hill Ln, Between Brompton Estates Llc to Timothy P Dee, Robin H Murphy, $682,000.
26 Sierra Dr, Ryan Homes of New York to Daniel Wai Kwan, Melissa Carolyn Kwan, $661,965.
43 Summer Hill Ln, Carol Ann Hedges to Claire Kopf, Randie Kopf, $599,900.
83 Old Tower Ln, The Marrano/Marc Equity Corporation to Colleen M Goodwin, $579,900.
84 Sierra Dr, Ryan Homes of New York to Omer Gulzar Ch, $577,165.
18 Essex Woods Ln Unit A, Essex Homes Of Wny Inc to Ladybug Living Trust, $511,710.
835 Casey Rd, Michael C Veruto to Erica Rider, $505,000.
289 Reist St, Judith A Wilson to Alexander S Miller, $500,000.
32 Sierra Dr, Ryan Homes of New York to Nancy Lou Evans, $496,980.
154 Chasewood Ln, Timothy P Waring, Tracy L Waring to Edita Ferizaj, Lavdim Ferizaj, $480,000.
165 Glen Oak Dr, Kimberly Mintz, Ronald Mintz to Brittany Cloud, Kevin Cloud, $475,000.
570 Bauman Ct, Mathew Paul to Willie J Mayberry, Corinda Larkins-Mayberry, $454,900.
361 Countryside Ln, Sheri Levine Poole to Nicholas Beauchamp, Kimberly Beauchamp, $437,100.
74 Burbank Dr, The Martha A Quinn Revocable Trust to Terrence E Attea, Jennifer M Attea, $390,000.
90 Westchester Rd, Daniel P Starr, Joanne C Starr to Carole Shaw, $385,000.
244 High Park Blvd, Ruth Hanna Smith to Charles Constantine, $325,000.
128 Presidio Pl, William A Kilinskas to Abu M Rifat, Mst Begum, $305,500.
79 Red Oak Dr, Red Oak 1 Llc to Nasreen Brady, Ryan M Brady, $290,000.
284 Clearfield Dr, John J Wiedeman to Seoyeon Lee, Giovanni Ferrari, $287,700.
20 Streamsong Ct, Natale New Llc, Natale New Llc to Nicole K Joerg, Nicole K Joerg, Theodore A Joerg, Theodore A Joerg, $275,000.
1219 Eggert, William K Crabtree III, Jacqueline Crabtree to Jacob Eli Anderson, Veronica Anderson, $260,000.
227 Sunrise Blvd, Cheng Qian, Xing Li to Sha Mohammed Yasin, Mahamuda Khanam, $250,000.
506 Park Club Ln, Elaine T Schweitzer to Shagufta Badar, $235,000.
150 S Union Rd, Colleen M Goodwin to Tomas Missert, $232,000.
229 N Harvest St, Rosamond C Strauss to Ryan G Helfrey, $215,000.
1110 Dodge Rd, Dennis H Brennan to Evan Mann, Claire Mann, $215,000.
255 Springville Ave, Jocelyn H Jackman AKA Jocelyne Hailpern Jackman to Kristofer M Oconnor, $205,000.
5 Beacon Park Unit I, Carol A Nottingham, Gary R Nottingham to Noreen G Mendola, $200,000.
4 Keph Dr U3, Melinda J Mang, Nicole White to Madison Roberts, $191,000.
43 Larch Rd, Patrick T Clemons, Steven Jagord to Teresa Li, Yusouf A Khan, $175,000.
182 Oxford Ave, Mohammed Mohammed, Maral Salih to Roland Neequaye, $175,000.
75 Henel Ave Unit 3, John C Pinzone to Mohammed S Rana, $148,777.
9 Gatewood Ln, Edward C Matthews to Daryl Santillo, $147,000.
140 #3 Old Lyme Dr, Joan D Daniels Living Trust to Janet D Davis, $142,000.
125 Hopkins Rd, Michele A Polino, Paul F Polino to Dartd Llc, $135,000.
455 Hopkins Rd Unit 2, John R Mika, Brenda Mika to Marian Lamacchia, $120,000.
46 W Royal Pkwy, Rcf 2 Ebo Trust, Us Bank Trust Na to Mark W Tiedemann, $55,000.
202 Greenwood Dr, Marian R Lohr to Tammy L Drum, Theresa M Drum, $330,000.
13 Madison Ave, Xavier Gonzales-Soto to Rosalee Wilhite, $240,000.
5575 Ripple Dr, Dominica M Stanz, Joseph E J Stanz to Katherine Feuerstein, Christoper Feuerstein, $300,000.
1330-1332 Brant North Collins Rd, Rachael Wagner, Renee Swan, Anthony Andolina to Seth Andolina, $70,000.
10555 Morley Rd, The Martha R Schlegel Revocable Trust to Robert F Catalano Jr, $30,000.
1111 Elmwood Ave Unit 402, Affinity Elmwood Gateway Properties Llc to Bair Family Group Holdings Llc, $1,280,900.
268 Lakefront Blvd Unit 105B, Lakefront Boulevard Llc to Therese A Quinn, Kevin B Quinn, $944,547.
115 Oakland Pl, Abdul S Labi, Maria L C Labi to Alexander Baker, $900,000.
49 Clarendon Pl, Wendy L Sanders, Stephen K Sanders to Jacob Austin Zimmer, $655,000.
99 Nottingham Ter, Jay J Schwartzkopf to Sean M Donahue, Trent Michael Morse, $637,000.
259 Chicago, Wendt (Usa) Llc to J-P Group Llc, $630,000.
94 Jewett Pkwy, Learning Disabilities Association Of Western New York Inc to Jennifer Hurley, $611,000.
73 Bedford Ave, Thomas Mcnaughton to Kristin Borowiak, $425,000.
32 Horton, Buffalo Properties Management Holdings Ii Llc to Samantha Jo Dombrowski, $391,400.
88 Clay St, Christian Irizarry to Gary Properties Llc, $265,000.
871 Columbus Pkwy, 278 Trenton Inc to John Arop, $230,000.
131 Dart St, Against All Odds Enterprises Inc to Khwaja Navil, $226,000.
48 Lonsdale Rd, Bismillah Business Inc to Md Sadi Kur Rahman, Ali Hussain, $220,000.
324 Norwalk, Patricia Botticello, Peter Marinaro Jr, Christine Meehan, David Marinaro to Cindy A Marinaro, $200,000.
29 Mercer Ave, Beatrice Bizzell to Jacqueline Mandell, $180,000.
73 Sheffield Ave, Francis J Cunningham to Elliott O Parker, $180,000.
376 Downing, Wny Partner Holdings Inc to Michael Lewis Cotterell, Stephanie Ann Cotterell, $180,000.
1470 Kenmore Ave, Alethea D Montgomery to Erick David Melendez, Healley Ann Velazquez-Melendez, $171,000.
360 Prospect Ave, Robert Becerril to Asv Property Revival Llc, $165,000.
295 Plymouth Ave, Jose E Hernandez to James Pesono Jr, $160,000.
115 S Legion Dr, Marin Z Ejlli to Surelys Barias, $157,000.
223 Merrimac, Weiguang Pan, Tong Chen to Avijeet Kumar Dut, $150,000.
350 Deerfield Ave, Cheryl Y Land, Howard D Moffatt to Luis Colon, $145,000.
58 Colorado Ave, Aysha Siddika,to Sharif Ahmed, Nargis R Akhter, $140,000.
319 Holly St, Jinnat Farhana to Dream Property Usa Inc, $138,000.
19 Kofler Ave, Javier Vazquez to Gabrielle Vazquez, Ryan Martin, $123,000.
106 Krettner St, Girard Murphy to Doris Mcbride, $119,500.
137 Carlyle, James Dingeldey to Joseph Ahmed, $115,000.
104 Manhart, Elizabeth I Middleton, James E Middleton to Md Salah Uddin, $115,000.
118 Hewitt, Craig Rejman, Frank J Nowicki to Sachin Bhargava, Swati Bhargava, $112,500.
439 Hewitt Ave, Jayme Lue Harper to Sheresha M Pitts, $105,000.
316 Sobieski, Barakah Worldwide Inc to Mohammed Abdul Haque, $100,000.
300 Riverside Ave, Joend K Maldonado to Demichy Maldonado, $95,000.
1804 William St, Syed L Rahman, Sunil Bakshi to Citigroup Mortgage Loan Trust 2006, Us Bank Na, $93,116.
36 Alice Ave, Amicus Qubella Llc to Md Samemul Hossain Sahin, Asma Akther, $92,000.
84 Hedley Pl, Judith A Jackson to Queen City Invest Llc, $87,500.
193 Leroy Ave, Uzzal Ahmed to Jahangir Alom, Nasima A Chowdhury, $75,000.
688 E Eagle St, Muqdad Khaleel to No Limit Rental Llc, $70,000.
89 Clarence Ave, Chalmers Lowe to Tazbir Holdings Llc, $57,500.
163 Crowley Ave, Upgrade Properties Wny Llc to Tsar Properties Llc, $55,000.
58 Briscoe Ave, Tim Mckillen Sr to Bryant C Taylor, $55,000.
62 Rodney Ave, Elizabeth Morris to Anila Corporation, $48,000.
204 Crowley Ave, Tin Hla to Rugo Holdings Inc, $42,000.
207 Dartmouth Ave, Fazlul K Chowdhury, Razia Chowdhury to Ahammed Sohel, $39,000.
52&54 Guilford, Amie Ali to Mubarak Hossain, $35,000.
19 Schutrum, Barbara Bolden to Barakha Mgmt Inc, $25,000.
65 Grey St, Samuel Whitaker Sr to Ifran Properties Inc, $25,000.
24 Anderson Rd, Divita Family Partnership Lp to Recovery Real Estate Holdings Llc, $1,300,000.
8 Brookedge Rd, Lmsm Propertys Llc to Erin Burns, Timothy Drews, $338,000.
137 Messer Ave, Eugene A Rutkowski to Sami Wahid, $315,000.
114 Zoerb Ave, J L Ivey Jr to Mohammad Rokonuzzaman, $240,000.
178 Gary Ln, Jessica A Kulpit, Lori A Stachowiak, Matthew Stachowiak to Gifm Holdings Trust, Us Bank Trust Na, $233,397.
104 Ridge Park Ave, Cynthia Garcia, Luis R Garcia to Harold M Schreckengost, $194,600.
129 Peinkofer Dr, Puya Assadullah, Eftekhar Rajab Bolookat to Ayoub Muradi, Zahra Moradi, $185,000.
8 Brookedge Rd, Franca Maddalena, John A Maddalena to Lmsm Propertys Llc, $180,000.
48 Cedar Rd, Natalya Dean to Md Rashid Neazy, $170,000.
36 Glidden St, Thomas E Koller, Carole L Koller to Lauren Kohler, Kevin Kohler, $170,000.
51 Pleasant Pkwy, H Edward Schubauer to Noah J Link, $167,480.
588 Beach, Mathew J Bean to Zali Ahmed, Aklakur Rahman, $165,000.
168 Nadine, Maryann Battaglia, Carmelo Cibella, Rosalia Cibella, Rosalia Dziomba to Anaelis Decibella, $130,000.
115 Fontaine Dr, John T Warzel, Rose M Warzel to Mrr Property Solutions Llc, $105,000.
6610 Meghan Rose Way, Chris A Rustowicz, Gregory P Rustowicz to Gyorgy Paragh, Emese Zsiros, $1,550,000.
8950 Galway Ter, Timothy P Dee, Robin H Murphy to Russell G Papia, Andrea Papia, $713,500.
8191 Clarence Lane N, The Stephen L George Revocable Living Trust to Shaun Pierce, Katelyn Pierce, $412,000.
10805 Boyd Dr, Cecil G Davis, Gayle J Davis to Sullivan Conway, $375,000.
8978 Willyoungs Overlook, Cimato Enterprises Inc to Essex Homes Of Wny Inc, $143,000.
V/L 8978 Willyoungs Overlook, Essex Homes Of Wny Inc to Susan J Stefano, $143,000.
5475 Waterlefe Dr, Reserve Development Llc to Designer Homes Of Wny Llc, $139,900.
5386 Waterlefe Dr, Reserve Development Llc to Designer Homes Of Wny Llc, $139,900.
8553 Sheridan Dr, Joseph Constantine, Sheridan Associates 7376, 7376 Associates Llc to 8553 Sheridan Drive Llc, $87,000.
14650 Rte 62, Gowanda Leasing Llc to Gowanda Pools Llc, $365,000.
2867 Gowanda Zoar Rd, Andrea Natello to Carol Ceraso, Jeffrey Ceraso, $301,000.
11476 Glenwood Rd, Karl F Geiger to Denise Ciszak, $15,000.
30 Albert Ct, Mark Marrelli Jr to Matthew Zahm, Brenna Vermilyea, $280,000.
21 Madaline Ln, Steven P Hoffman, Alyssa M Hoffman to Connor Radel, $260,000.
95 Chateau Ct, Ayub K Chowdhury, Lili R Chowdhury to Emily C Bagley, $225,000.
58 Fairview Dr, Pamela A Castanza, Gretchen Godfrey-Orlando to Scott Tse, Amanda J Fox-Schurkus, $205,000.
5521 Transit Rd, 5521 Transit Road Llc to Taylor Standard Holdings Llc, $90,000.
105 Main St, Erie County to Depew Properties, $15,000.
404 Main St, Donald C Stover, Michele M Stover to Southern Tier Rentals Llc, $400,000.
3060 E Pleasant Ave, Schreiber&Winkelman Inc to Luigi Palmieri, Barbara Palmieri, $130,000.
2808 E Church St, Diane Bianchi, Charles Malcolm Bianchi to Mrr Property Solutions Llc, $63,000.
3067 E Pleasant Ave, Donald C Schreiber, Marilyn K Schreiber to Luigi Palmieri, Barbara Palmieri, $40,000.
3054 E Pleasant Ave, Marilyn K Schreiber, Donald C Schreiber to Barbara Palmieri, Luigi Palmieri, $20,000.
4120 Eckhardt Rd, Elizabeth A Pollard to Gregory Myers, $20,000.
5800 Seneca St, Jts Properties Llc to Beards Development Llc, $600,000.
60 Carol Ln, Calvin L Mccabe to Kristen Marie Kaminski, Jamie A Mecca, $315,000.
6884 Chaffee Ct, Daryl A Speyer, John D Speyer to Sonya M Kelledy, Todd S Kelledy, $350,000.
1691 Eden Evans Center Rd, Donald A Waddell, Debora J Waddell to Eden Evans Re Llc, $210,000.
1462 Independence Dr, Judy I Powers, David N Powers to Alicia A Leppard, $135,000.
607 Milsom Pkwy, Cheryl Coffey, Paul Schnitzler to David R Bushnell, Bethany A Bushnell, Gabrielle Sunday, Brian C Sunday, $65,000.
27 Bader Ave, Lauri Owsian to Deal House Capital Fund Ii Llc, $60,000.
81 Pleasant Trl, Caleb J Canazzi to Samantha Maria Hahn, Patrick Thomas Hahn, $460,000.
252 Cardinal Ln, Christine L Berg to Laura Moran, Nicholas Dimatteo, $335,252.
2600 Baseline Rd, Shirley K Luther to Joseph Mcdougal, $270,000.
5580 Cooper Ridge, Iryna Matiukhina to Mackenzie Paternostro, Paternostro Vincent, $439,000.
39 Buffalo St, Howard C Braymiller Jr to Liberatore Management Group Ii Llc, $425,000.
5039 Overlook Point, William R Gallardo to William Carver, Melissa Carver, $360,000.
3455 James Ave, Mp Development Llc to Devin Keen, Sean Keen, $355,000.
4600 Deerfield Rd, Jennifer J Sperduto, Joseph D Sperduto to Dennis M Eberhardt, Wendy J Eberhardt, $324,000.
86 Main St, Joel E Best, Joyce A Best to Jodie Best, Joelene Best, $320,000.
6260-L Eckhardt Rd #16, Scott Badman, Bonnie Badman to Jeffrey T Recktenwalt, $305,000.
4254 Sheva Ln, Jenna M Walden, Charles T Walden to Domonica Howard, $270,000.
3357 Woodlawn Ave, Charles P Skipper III, Jody Skipper to Margaret Saxbury, River Saxbury, $240,000.
3665 Sixth St, Debra A Gilmore to Stacy M Wielgosz, $116,000.
5572 Scranton Rd, Nelda Williams, Nancy Theriault, Ronald W Rogers, Roger Rogers, Melvin J Rogers, Clifford Rogers, Vernita Gentner to Lisa Rogers, Bruce E Rogers, $88,000.
4889 Killarney Manor, Waterford Pines Community Llc to Edwin J Marchant Jr Revocable Trust, $65,000.
9880 Vermont Hill Rd, Eastwood Ventures Of Wny Llc to Robert N Holdsworth, Sharon A Holdsworth, $50,000.
408 Mckinley Ave, Kim M Smith, Timothy P Smith to Kevin Riddle, Tammy Riddle, $400,000.
2517 Elmwood Ave, Gerard T Jakubczak, Pamela S Stark to 2517 Elmwood Llc, $350,000.
2727 Elmwood Ave, 2727 Elmwood Llc to Zwelling Properties Inc, $350,000.
43 Kenton Rd, Aurora Harrison, Errol Harrison to Salvatore P Cappellino, $274,900.
183 Wabash Ave, Christopher M Bauer to Gabrielle Morales, Michele Fetter, $267,250.
279 Tremaine Ave, Donna Patricia Saviola to Brian Gil, $243,000.
137 Shepard Ave, Emily Bettendorf to Amani Jaber, Hasan R Abuolba, $230,000.
435 Victoria Blvd, Rachael Billings to Kayla K Devlin, $180,000.
175 Tremont Ave, Karol A Lynch to Kekeli Olympio, Sedaya Olympio, $175,000.
107 Tremont Ave, Finn Group Llc, Daniel Glushefski to Jl&M Development Llc, $145,000.
15 Cottage Pl, Immense Multitrade International Inc to Saima Tasnim, $152,000.
22 Wiesner Rd, Jr Management Usa Llc to Abdulrahman Umar, $135,000.
30 Currant Ave, Mohammed S Ali to 5Aj Usa Corp, $48,000.
71 Grambo Dr, The Marrano/Marc Equity Corporation to Thomas E Eisman, Kathryn A Eisman, $429,900.
183 Cemetery Rd, Robert Vealey to Rachael M Serafin, Chad V Cavallaro, $405,530.
30 Olde Stone Ln, Theodore J Bemis, Wendy J Bruso AKA Wendy Cusson to Gregory B Henderson, Kimberly K Henderson, $185,000.
712 Pleasant View Dr, Pleasant View Gardens Llc to Laura S Tobia, Tobia Vincent M Sr, $75,000.
Vl Miland Rd, The Roger L Cummings Trust to Lavoct Properties Llc, $256,250.
Vl Miland Rd, Barbara Cummings to Lavocat Properties Llc, $128,125.
V/L Miland Rd, Herbert E Cummings to Lavocat Properties Llc, $128,125.
Vl Meahl Rd, William B Earle, Angela J Earle to Matthew Roger Brewer, Alex M Brewer, $116,000.
4821 Shutt Rd, Stanley R Tatara to Michael Thomas, $78,000.
2098 Langford Rd, Ashlea Dawn Eustice, Timothy Martin Shoemaker to Amanda Darnley, Richard Darnley Jr, $296,000.
2048 Kimble Ave, Marie Parnitzke to John G Mrozek, $165,000.
2265 Thiel, Gary Toner to John Robert Slator, $145,000.
10669 Elm St, Anthony Andolina, Renee Swan, Rachael Wagner to Seth Andolina, $70,000.
11 Chase Rd, Anna Marta Hewitt, Richard William Hewitt to Sam Martin, $800,000.
3 Golden Crescent Way, Regency Builders Llc to Jessica Williams, Noah Thomas Newsome, $639,900.
4 Redbrick Rd, Kahtleen M Sweet, Brian T Fredericks to Michael Patrick Leonard, Amicia Leonard, $480,000.
6565 Gartman Rd, Michael Damato, Robin Lynn Damato to Kelsey Walawender, Jacob Michael Mcclure, $450,000.
38 Hodson Rd, Stacy A Collins to Jaclyn Machelski, Raymond Gaczewski, $341,500.
189 Bielak Rd, Amy L Orsini, John P Orsini to Eileen Klubek, James Klubek, $280,000.
466 Hillside Ave, Melissa Harrington to Luis R Garcia, Cynthia Garcia, $260,000.
6 Redbrick Rd, Brian T Fredericks, Kathleen M Sweet to Amicia Leonard, Michael Patrick Leonard, $105,000.
63 Mosher Dr, John D Dangelo to Jesus Manuel Soto-Negron, Vanessa Inez Soto-Negron, $143,000.
213 Paramount Pkwy, Kimberly Beauchamp, Nicholas Beauchamp to Scott P Maloney, Heather Alexis Colosimo, $300,000.
104 Westgate Rd, Phyllis Mercurio to Sean M Pellicore, Cassie R Icard, $280,000.
1364 Parker Blvd, Mary Anne Walsh, Kevin R Walsh to Paul E Mather, $270,000.
1200 Woodstock Ave, Samantha Lynn Veihdeffer, Jordan Elizabeth Buziak to Jamie Capece, Michael Anthony Capece, $270,000.
142 Kelvin Dr, Suzanne L Sawran to Rooted On Main Llc, $230,000.
459 Evergreen Dr, Sherry C Maynard, Mark J Ruff, Michael L Ruff to Amy Jankovic, Michael Jankovic, $215,000.
118 June Rd, Creation Properties Llc to James John Farley, $213,200.
18 Lyndale Ave, Nicole Pagan to Cribs Housing Lp College, $209,000.
372 Harrison Ave, Krista Anne Rasey to Chad J Steinwachs, $200,000.
130 Wendel Ave, Joseph W Agnello to Traci Aloi, Randy C J Dickerson Jr, $189,000.
46 Calvin Ct N, Kaitlin Kellner, Christopher Kellner to Brian C Hosmer, $180,000.
286 Moore Ave, Carlene Carruba-Brown to Jessica A Putnam, Auken Corey R Van, $180,000.
202 Coventry Rd, Jane S Colosi to Abby Kaufman, $150,000.
19 Park Ave, Paul A Kirchmeyer to Integrity Property Group Llc, $90,000.
184 Clark St, Sean Harkin, Andrew B Shields to Andrew B Shields, $51,000.
Vl Olean Rd, Andrea M Heitman, Jeffrey Heitman to Russell T Clothier, $40,000.
111 Caldwell Dr, Eric A Sauers, Laura Sauers to Benedic Antony, Emmanuel Amani, $500,000.
20 Veronica Dr, Homes By Walter Inc to Hannah A Lorenc, $420,000.
74 Crofton Dr, Jacqlyn Biela, Christopher Michael Biela to Yan Lin, $300,000.
7 French Lea Rd, Rushford 1 Llc to John Stoddard, $297,500.
69 Deer Path, Darrin P Mcguire to Jl&M Development Llc, $290,000.
248 Woodward Dr, Gene M Olivieri Sr to Bonnie L Welch, Scott C Badman, $290,000.
101 South Dr, Ryan Homes of New York to Sadia Sultana, Syed Shahjalal Chowhdury, $283,335.
184 Pellman Pl, John A Gerace, Jessica A Gerace, Dana L Gerace, Joseph J Gerace to John A Gerace, $267,000.
39 Pinewood Dr, Ronald J Derk Jr to Ronald A Dujinski, Sheila A Dujinski, Nicholas C Dujinski, $260,000.
104 Aurora Ave, Rochester Christian Church Ministries Inc to Hindu Parishad Buffalo, $232,111.
137 Fernald Ave, Tyler J Kostrzycki to Sana Rasheed, $230,000.
75 Bihrwood Dr, Jennifer A Hurley, Heidi L Reiman AKA Heidi L Sanfilippo to Wny 18 Llc, $206,551.
45 Electric Ave, Donny C Answeeney to Jared Matesic, Allyson Demski, $205,000.
1311 Center Rd, Holly Putzbach to Caleb Scott, Rhonda Scott, $190,000.
52 Louis, Carol Ann Mohamed, Nancy Jean Mohamed to Fm Logistics&Storage Llc, $140,000.
34 Fernwood Ave, Anthony Golda Sr, Aloise Golda to Queen City Invest Llc, $90,000.
152 South Dr, 1000 Queens Grant Llc to Ryan Homes Of New York, $37,500.
154 South Dr, 1000 Queens Grant Llc to Ryan Homes Of New York, $37,500.