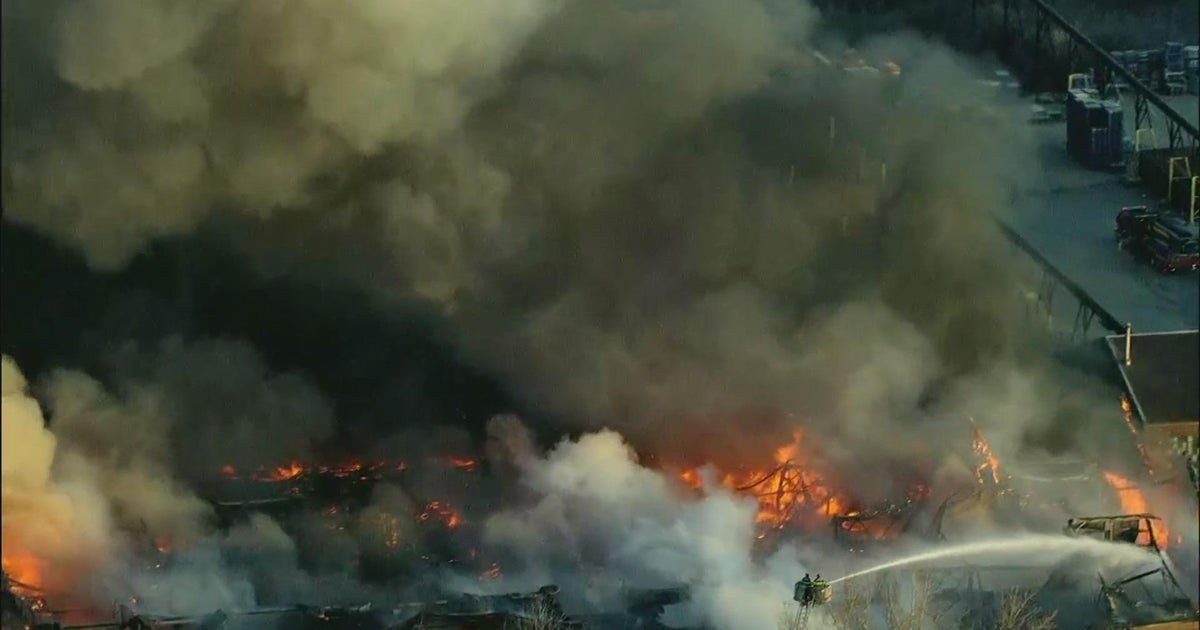 CHICAGO (CBS)– Crews spent several hours on Monday fighting a massive industrial building fire in south suburban Chicago Heights.
The fire started shortly before 6 a.m. at the Morgan Li furniture factory at 1101 Washington. Fire department officials said it was extinguished around noon.
The company's president described the fire damage as "massive," but said all employees are safe and accounted for, and they're lucky no one was injured.
"Morgan Li is a family-owned and run business and we consider all our employees an extension of our family," the company said in a statement. "We will do everything we can to rebuild what was lost and continue to support our people and the entire Chicago Heights community. 
"The location of the fire is one of our five manufacturing facilities, and we will continue to support our customers throughout the other operational locations."
Many neighbors were wondering what, if any, toxic chemicals might be in the air.
"There was black debris in the air, and on my car, and on the driveway; and it was like ashy black material. Very flaky, and I thought it was very weird," Raul Avalos said.
Even though Avalos couldn't see the flames, he said the ashes were the first sign that something was wrong over in this industrial park.
Several neighbors said they were concerned about the possible environmental impact of such a large fire.
"We don't even know what kind of chemicals would be in there; what we call products of incomplete combustion," Dr. David Zaber said.
Morgan Li purchased the 230,000-square-foot facility, located near the company headquarters, in January 2022 
The company fabricates fixtures, furniture, and graphics for retail and hospitality companies, including the Ritz Carlton, Gap, Old Navy and Walmart.  Locally, it has done projects for Fox Trot market and Stadium Goods athletic apparel. 
The Chicago Heights Building Department did not immediately respond to a request for information on the building's history of inspections.
The cause of the fire is under investigation.