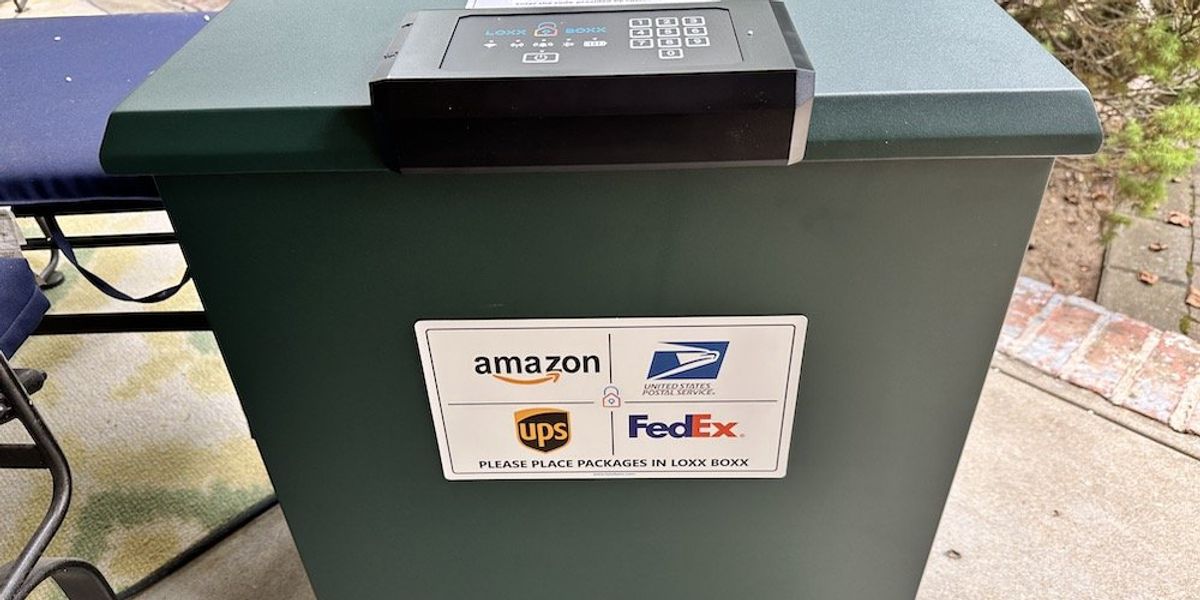 If you have been a regular GearBrain viewer, you would have seen our reviews of smart delivery boxes from Yale and BenchSentry in the past. And we have talked about these new smart home security devices and how they can help prevent stolen parcel deliveries from homes. We recently published this press release about Loxx Boxx, a new smart delivery box, and have spent the past few weeks testing it in a real home. Here is what we learned on how Loxx Boxx can prevent "porch pirates" from stealing your packages.
What is Loxx Boxx Smart Delivery Box?
Unboxing Loxx Boxx
Check out this slide show to see what comes inside this big box for Loxx Boxx
Loxx Boxx is much different from the other smart delivery boxes we have tested. It comes with an accessories kit with a power bank, micro USB charging cable, mounting hardware, and instruction magnet. Yes, a magnet, and not paper. It also comes already assembled, which was nice.
Other features we found from testing Loxx Boxx include weatherproof, a free app (iOS and Android) for managing deliveries, and one-time access codes. It also includes a thermometer to monitor the container's internal temperature and a tamper alarm to deter anyone trying to force the box open. The Loxx Boxx is available in two sizes – Classic and Household and either version can accommodate deliveries of nearly any shape and size.
Another nice feature of Loxx Boxx is its design. This smart delivery box is constructed of durable steel that is tightly welded to safeguard parcels against porch pirates, pests, and the elements. The setup process is quick and easy since it comes fully assembled and includes mounting hardware.
Loxx Boxx is available in various color finishes with an easy-to-clean, fade-proof UV-resistant coating. A durable rechargeable battery powers Loxx Boxx, which negates the need for AC power.
All controls for your Loxx Boxx are on the homepage of Loxx Boxx appGearBrain
How to set up and Install Loxx Boxx
Since this smart delivery box is assembled, getting Loxx Boxx operational is relatively easy. The first step is ensuring the supplied power bank is fully charged. Use the micro-USB cord to charge it. The power bank has an indicator light that will help you know how much battery life is left – green is fully charged, yellow means it has 30-80% battery life left, and Red means battery life is less than 30%. Note that while charging, you will see a flashing yellow light. Once fully charged (solid white light), you will attach the power bank to the Loxx Boxx using the USB cord and continue the installation process.
I recommend downloading the Loxx Boxx app from the App Store (iOS) or Google Play (Android) while the power bank is charging. It will make the setup process go quicker.
The next step is to pair your Loxx Boxx with the Loxx Boxx app. This step is done via a Bluetooth connection, so make sure you are close to the Loxx Boxx. When the app is open, click "Add Loxx Boxx," then press the power button on the Loxx Boxx and enter the default Passkey (which is in the app). Then select "Pair." If you use an Android phone, Google requires location services to be turned on to connect to a Bluetooth device.
Follow the steps to connect the Loxx Boxx to your home Wi-Fi network; You will need your Wi-Fi network password handy. Also, during this step, the window for entering your username and password is brief, so don't delay inputting your credentials. If so, it might cause the Loxx Boxx to enter into a feedback loop. We know this because it happened to us the first time we went to input our passcode. Also, the Loxx Boxx works only on a 2.4 GHz Wi-Fi connection. If you have a dual-band router, make sure you use this setting.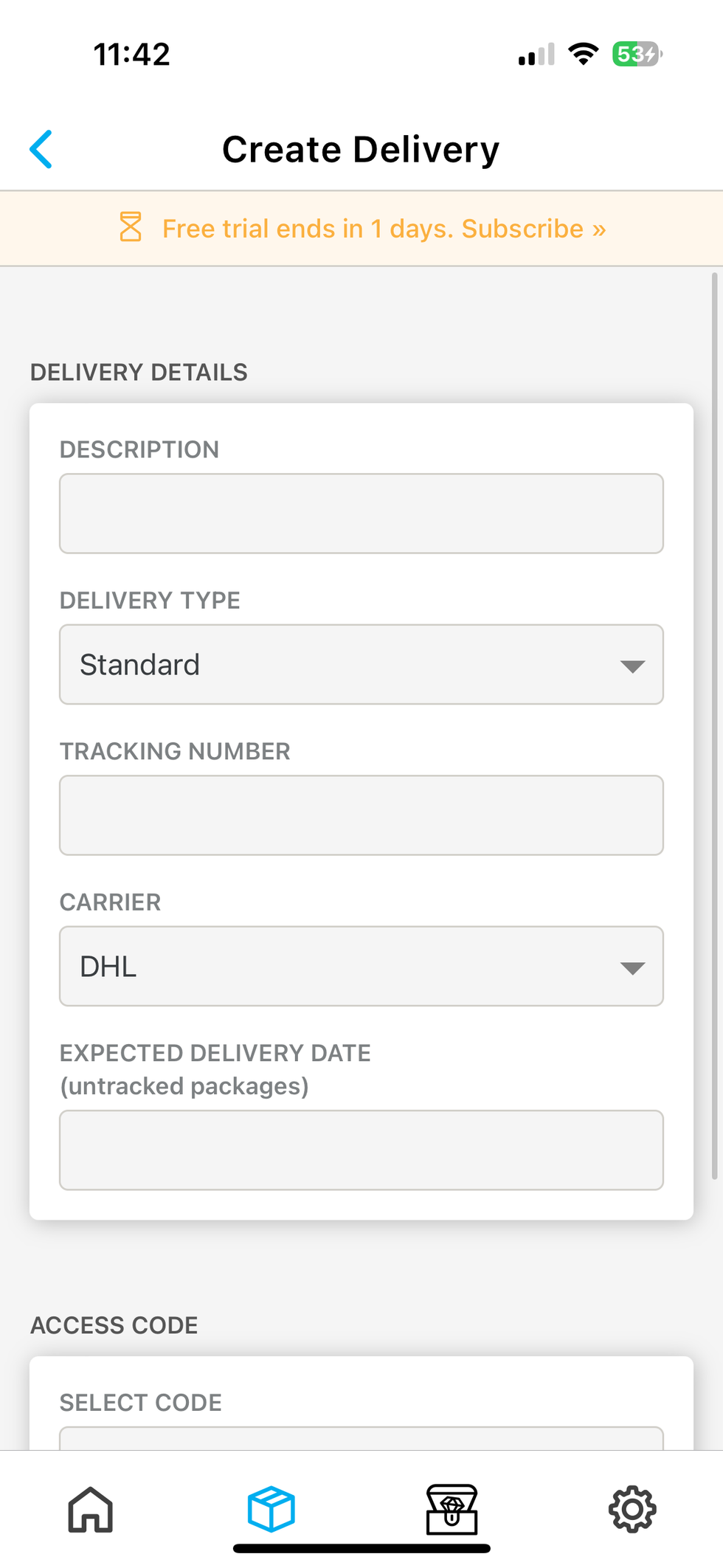 Use the Loxx Boxx app for setting up deliveriesGearBrain
Once connected, you can give the Loxx Boxx a name and set the master code. To change the master code, you will need to go to the home page of the Loxx Boxx app and select "Change your master code." Just follow the app's instructions and ensure you are standing next to the Loxx Boxx. You will need to make sure the box's power is on, and you will need to open and close it during this process. Here are a few tips for changing the master code:
Locating the "Learn" button: The "Learn" button is used to wake the Loxx Boxx when setting the master code. This button is located on the back side panel and under the keypad. Make sure you locate this before changing the master code process.
A master code needs to be 5 to 10 digits long.
If, during the setting of the code. If the keypad remains inactive, the setting of the master code process will timeout and discard any changes. At this point, you will need to start the process again.
To save your master code, press the power button. The box will automatically save the code.
Be sure to test your code before you close the lid of your Loxx Boxx.
Once your Loxx Boxx is set up and connected, you can set up other features like Sharing Tracking Numbers and creating access codes for deliveries. The Loxx Boxx app has good tutorial videos to walk you through the setup process for these features. I recommend you watch them. They are quick and informative.
Subscription Fees
The Loxx Boxx offers two subscription plans: Wi-Fi enabled and LTE/Cellular. Each plan offers the following features:
Tracks all packages and Boxx access.
It monitors the temperature inside the Boxx for grocery and prescription deliveries,
Receives tamper notifications on all Boxx activity,
Allows you to share access with friends and neighbors. You can also share tracking numbers in the app.
Create once time use access codes for your carrier (like FedEx or UPS).
Schedule USPS to Pick up packages directly from the Loxx Boxx.
Get OTA updates for your Boxx
Get Safe Receipt Guarantee for stolen deliveries – up to $500
Loxx Boxx Treasure is a special service that offers exclusive access to great discounts from leading brands.
30-day free trial
The difference between the two plans is the connectivity. The Wi-Fi-enabled subscription costs $1.99 a month and provides only Wi-Fi connectivity. The LTE/Cellular subscription costs $3.99, and you get Bluetooth, Wi-Fi, and LTE/Cellular connectivity. This is helpful when your box loses power, and you need to open it. Or if your Wi-Fi goes down and you are away from home and need to check if a delivery was made.
Cost of Loxx Boxx
As mentioned above, Loxx Boxx has two models: Classic and Household. The Classic costs $349 for Wi-Fi enabled and $369 for LTE/Cellular connectivity. It comes in six colors: black, beige, gloss red, grey, matte brown, and spruce. You get a 30-day free trial for the Wi-Fi and then have to start to pay $1.99 a month if you want to continue the subscription. You can also add a solar panel which the company sells. If so, you will get 50% off the $49 cost of the solar panel.
The Household Loxx Boxx is much bigger than the Classic. It measures 39 1/2″ W x 21 1/2″ H x 16 3/4″ D and is available with Wi-Fi only or LTE/Cellular Service. The Wi-Fi-enabled version costs $399, and LTE/Celluar goes for $419. Note the company requires a solar panel for LTE products. Therefore, if you get the Household with LTE/Celluar, you will have to add the $49 solar panel to your order for the cellular connectivity to work. Note: both Loxx Boxx versions can be purchased on the company's site and Amazon.
Are these reasonable prices for a smart lock box? GearBrain has tested many smart delivery boxes, like Yale Smart Delivery Box and BenchSentry by Genie Delivery Box, and based on these reviews, the cost of Loxx Boxx is in the middle. Yale's smart delivery box is smaller than Loxx Boxx and costs $279.99 for Wi-Fi connectivity. BenchSentry's box costs $449 and offers seven cubic feet of storage. If you compare it to the Loxx Boxx Household, that costs $419, and you get 8+ cubic feet of storage and LTE/Cellular/Wi-Fi connectivity too.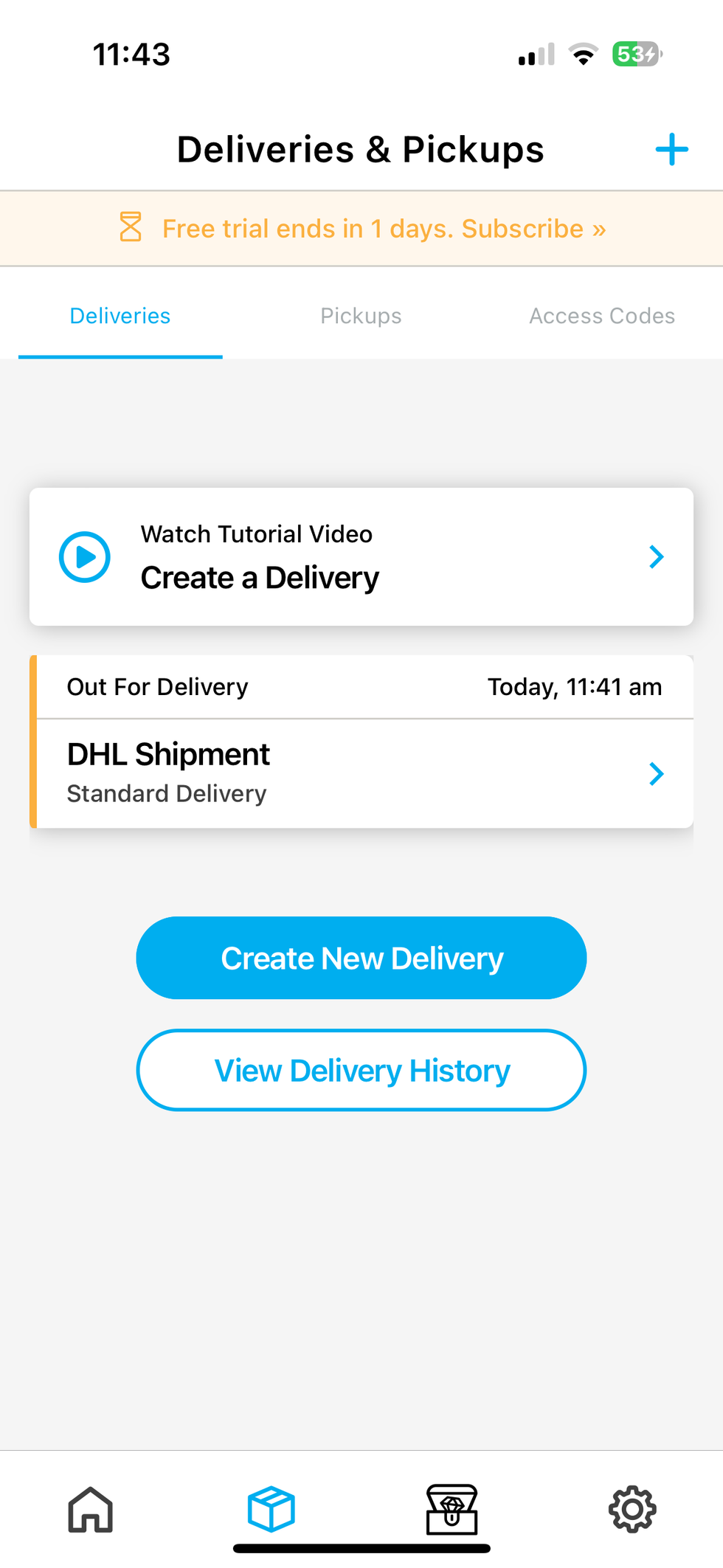 Schedule deliveries and pickups for Loxx Boxx in the appGearBrain
Performance of Loxx Boxx
Over the past several months, we tested the Loxx Boxx on the same porch we tested the other smart delivery boxes. We were curious to see how this smart box would perform since it comes with magnetic signs which you put on the box to instruct your delivery person where to arrange their delivery. There were instructions on top of the box and next to the keypad. At first, many delivery personnel were lazy and just through the packages on the porch and took a picture. But once I had a chance to speak with our FedEx and UPS guys, I explained how the box worked; they started to place the packages in the Loxx Boxx. I would recommend doing this if you get a lot of deliveries and happen to know your delivery person.
As for setup, Loxx Boxx was the easiest smart delivery box to assemble. That was because it came already assembled. And the material used in making this smart box is strong. The other delivery boxes are made of plastic, and Loxx Boxx is made of 16 gauge steel. It is solid and heavy. It also comes with floor-mounting hardware to secure your box to the porch or wherever the structure is nearby.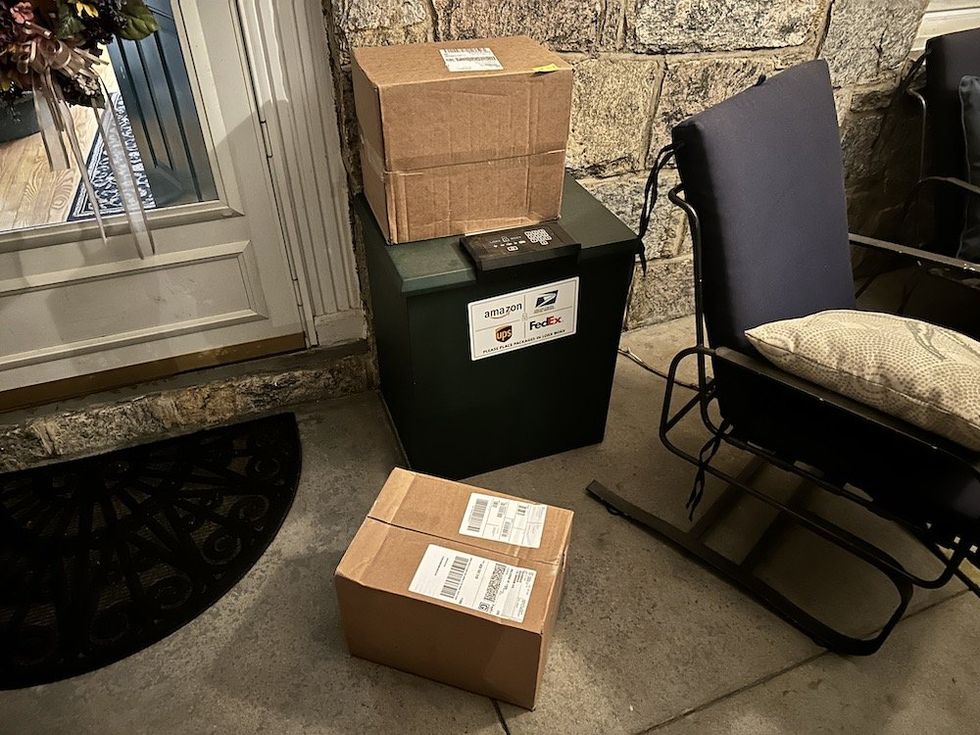 Hardest part with smart delivery boxes is getting the carriers to place the packages inside.GearBrain
One of the excellent features we liked about the Loxx Boxx was the power bank. Because our porch didn't have a power outlet nearby, running a power cord to a smart delivery box was inconvenient and did not look aesthetically nice. Since Loxx Boxx uses battery power and solar to keep the battery charged, we had no cords running across our porch, which my wife liked.
Another nice feature we found with Loxx Boxx was the temperature readings inside the box. No other smart delivery box offered this feature, and we can see how helpful it would be for people who get groceries or packages that are sensitive to the heat. All you have to do is go to the home page of the Loxx Boxx app, and you can see what the temperature is inside your Boxx. You can also set up alerts when the temperature reaches a certain degree. You can activate a tamper alarm alert in the app, a new feature we haven't seen in other delivery boxes.
The following unique feature of Loxx Boxx that we have not seen in any smart delivery box is the ability to turn it into a pickup box. No other smart delivery box we have seen or tested allows USPS to come and unlock your box and pick up a package. This is a new and excellent service if you have a lot of returns or maybe run a business out of your house that requires you to make a lot of shipments. It is only with USPS, but it would be nice to see this extended to other carriers in the future.
Lastly, let's look at the size of the Loxx Boxx. Putting a smart delivery box on your porch might be challenging for some people. These boxes are not necessarily small, so you have to find a place for it that will work for deliveries and is not an eyesore. Depending on which Loxx Boxx you get, it's not small. It is smaller than BenchSentry by Genie but bigger than Yale Smart Delivery Box. The Loxx Boxx Classic is taller and thinner than the Loxx Boxx Classic, which tends to be similar in shape and size to BenchSentry. For our test, we had the Classic version, and we were able to find a place that worked but us. You must be prepared to address this before purchasing any smart delivery box.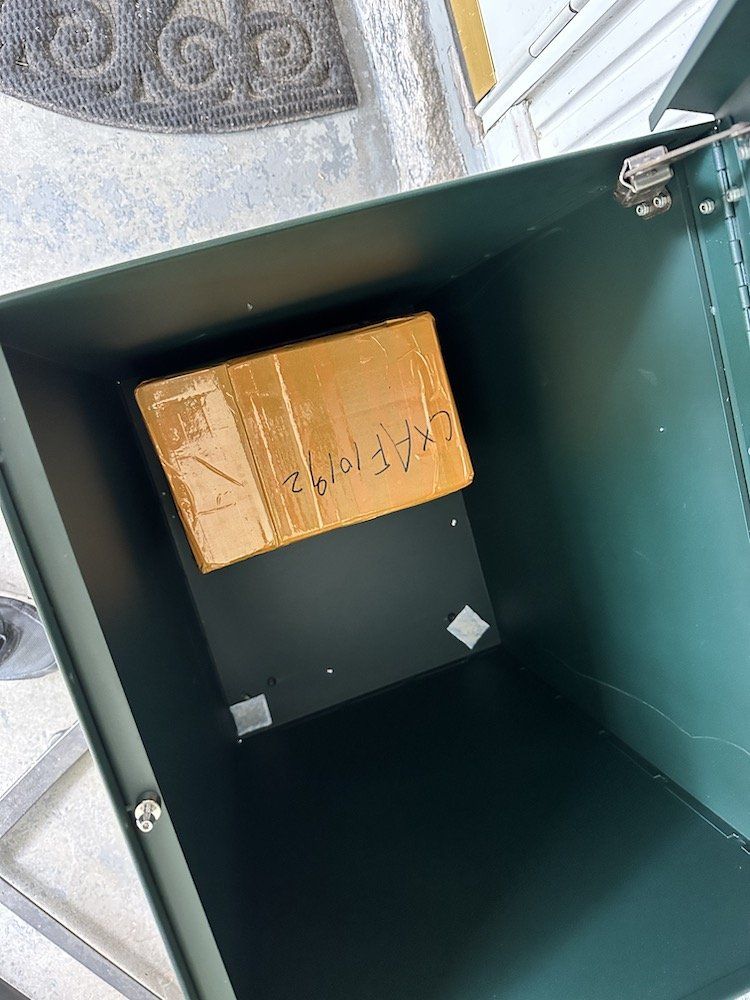 Results of training our delivery guy to place packages inside Loxx Boxx with access code.GearBrain
Summary
Smart delivery boxes have been designed to prevent packages delivered to your home from being stolen by "porch pirates." It can also help people who get a lot of deliveries a little peace of mind knowing their packages are being stored in a safe place when they are not home. But that only works if your delivery person actually puts the package inside the smart delivery box. I think that is the biggest challenge with all smart delivery boxes today. Carriers need to be trained to put the packages in, and it will take some time unless you know your delivery person. But once they start doing it, it is suitable for all parties.
As for Loxx Boxx, it is the newest member of the smart delivery box market, and it has brought several unique features that are ideal for the person who gets and makes a lot of deliveries. We like that you don't need an outlet nearby to power the Boxx, and you can buy a solar panel to keep it charged all the time. We were a little surprised that there was a subscription fee for Wi-Fi connectivity. We understand having a subscription fee for LTE/Cellular since this cost is associated. However, you will have to pay $1.99 a month for Wi-Fi-enabled connectivity—something to be aware of if considering buying Loxx Boxx.
Another nice feature we liked was the ability to use the box for drop-off and pickup. This feature will come in handy if you are running a small business out of your house. You have to use USPS as your carrier for now.
Who should buy Loxx Boxx? Anyone who is who wants to protect their packages and receive them conveniently. It can also be a good choice for small businesses that want to offer their customers a secure package delivery option. Just make sure you teach your delivery person how to use it, and everything will work out fine.
Pros:
Secure (steel construction) and weatherproof
Comes assembled
LTE/Cellular connectivity option
Long battery life (especially with solar panel added)
Cons:
Requires a subscription for some features
No smart home integrations ( does not work with myQ or any voice platforms)
If you are interested in finding more smart delivery boxes, don't forget to use The GearBrain, our compatibility find engine. It will help you find, buy and connect any smart device.
How GearBrain Helps You Find, Buy and Connect Smart Locks Faster Than AmazonIn this video we demonstrate how GearBrain can make buying smart locks on Amazon easier. We show how our filtering can …
From Your Site Articles
Related Articles Around the Web