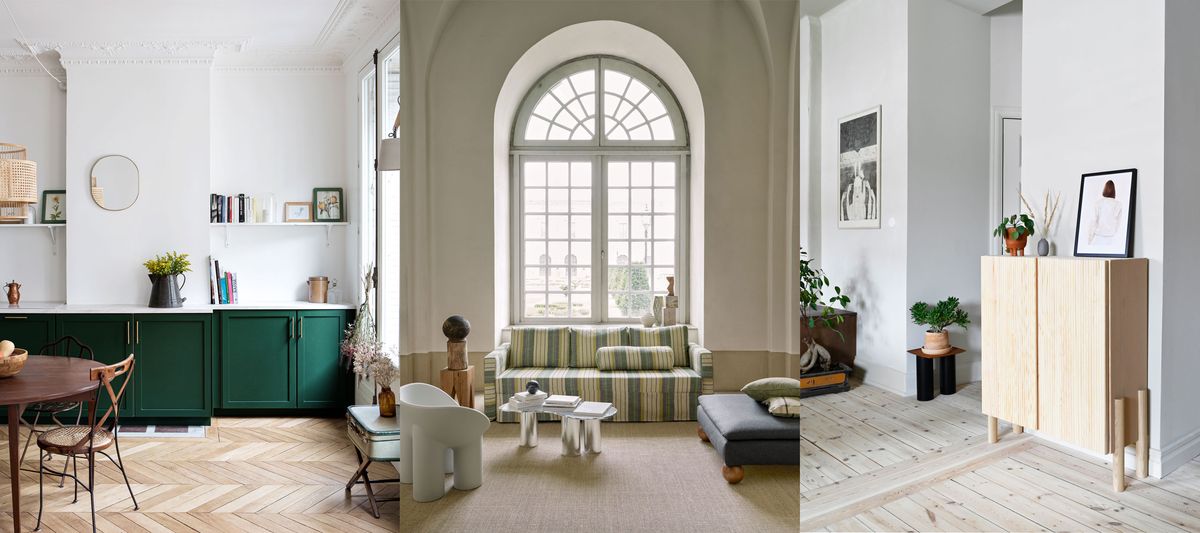 The reason Ikea hacks are so popular is that some of the most well-known pieces of affordable furniture in the western world can be transformed into fresh, new designs that feel unique and artfully elegant. And your friends will never guess their origin. 
There is no doubt that Ikea is one of the most popular and successful furniture brands for homes across the globe, with its founding principles rooted in providing simple, Scandinavian design that can integrate into spaces of all styles, ages and sizes. But no one wants a room or even a piece of furniture that looks exactly like everyone else's.
With so many of us choosing Ikea furniture for our interior design, there has been a rise in creative Ikea hacks, from designated companies offering bespoke customizations for products, to people showing off their innovative DIY skills on social media.
Our list of Ikea hacks show how you can beautifully enhance and upgrade a range of products across the home, creating designs that perfectly match your style and that can establish a stand-out look.
10 Ikea hacks that will fool your friends
From reinvented Ikea kitchen ideas, colorful paint tricks on Ikea wardrobes, to sleek cabinets with custom doors, explore some of our favorite Ikea hacks that will fool your friends and allow you to create a bespoke feel, even if you are decorating a home on a budget.
1. Transform Ikea kitchen cabinetry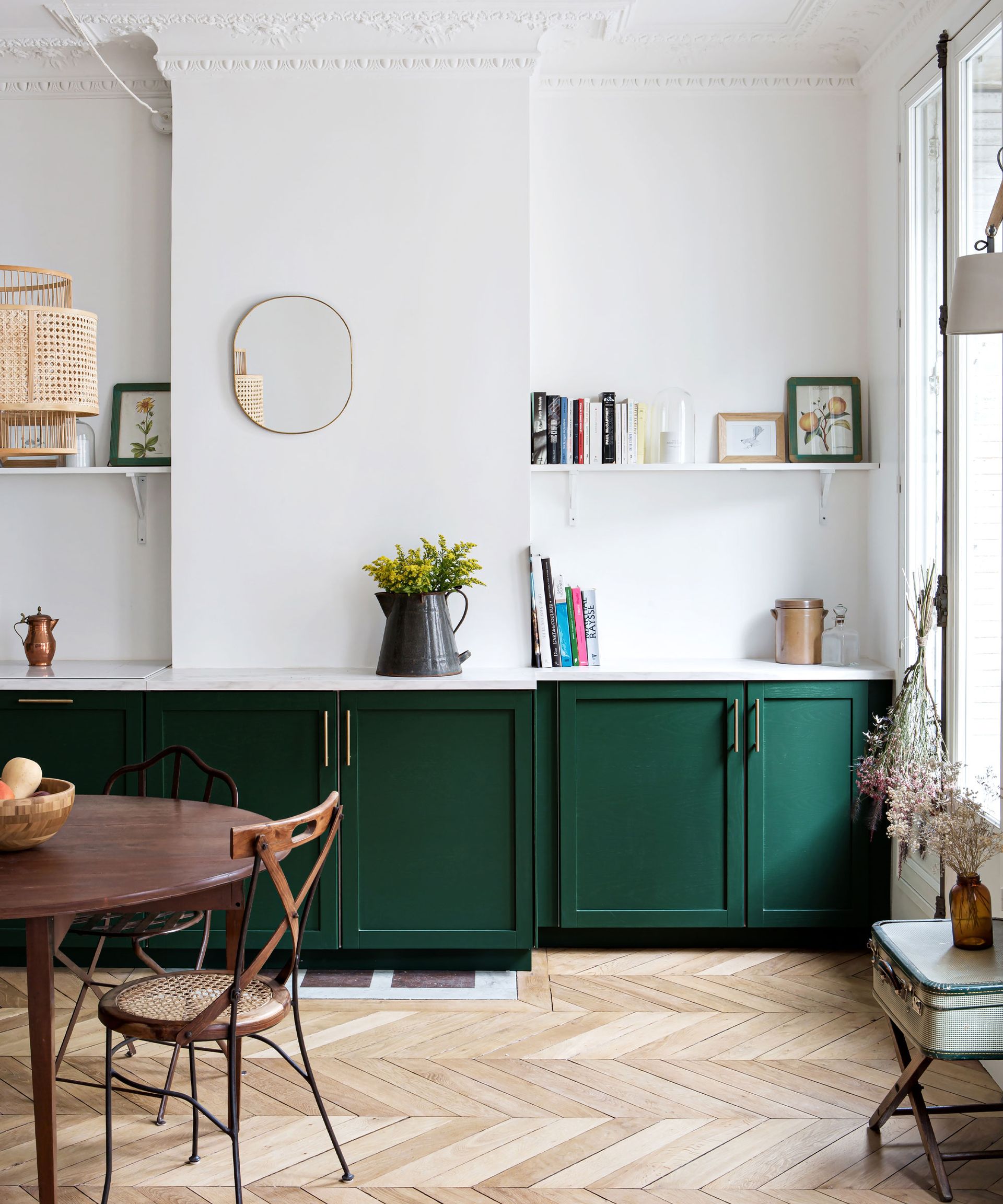 One of the most important designs to get right for your kitchen ideas, your kitchen cabinets need to look beautiful as well as be extremely hardwearing and durable.
Plum Living (opens in new tab) specialize in fronts and accessories for the Ikea Metod and Pax cabinet frames, as well as a providing a palette of unique paint colors to bring the designs to life. As shown in this modern kitchen, the cabinets have been enhanced with new handles and framed fronts in a deep, Sombre Forest green shade, establishing an elegant, Shaker kitchen style. 
A great option to consider if you a planning a remodel and kitchen makeover, the new cabinets add eye-catching color and character to this eclectic space.
2. Elevate Ikea storage solutions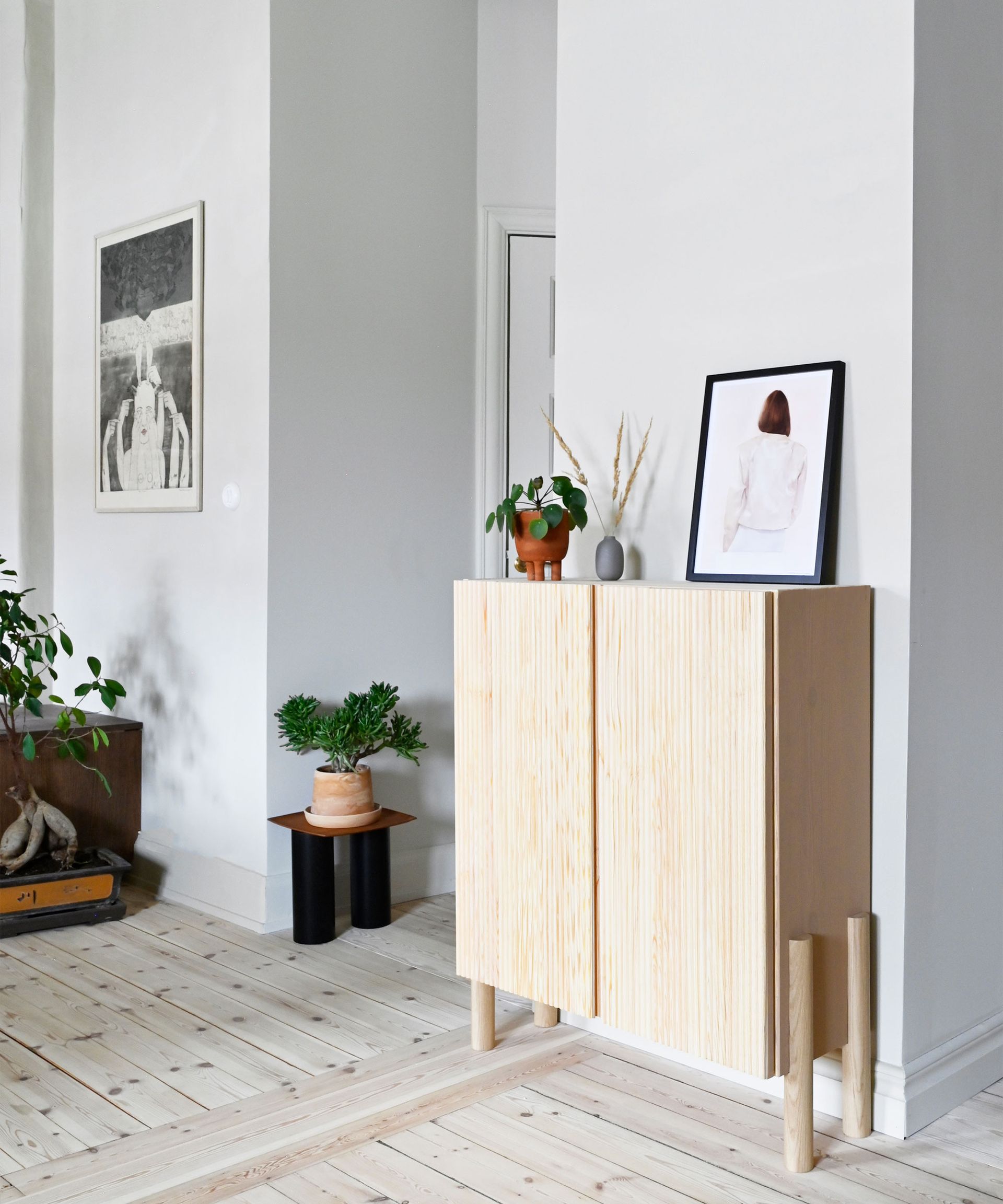 The pine Ivar cabinet in this living room has not only been customized with matching Folke Tall legs by Pretty Pegs (opens in new tab), but the design has been further adapted with untreated fluted fronts. Creating a stylish element of texture and shape, the untreated wooden fronts can either be left as they are, establishing a natural, organic look, or they are ready to be finished with paint, lifting the design with vibrant color – the choice is yours.
Part of the Ivar DIY collection from Pretty Pegs, the two accessory additions belong to a range of untreated leg models, knobs and fluted fronts that can be used to decorate the cabinet, allowing for you to use the cabinet as a creative canvas for a number of stylish designs and accessory combinations.
3. Add color and character to a closet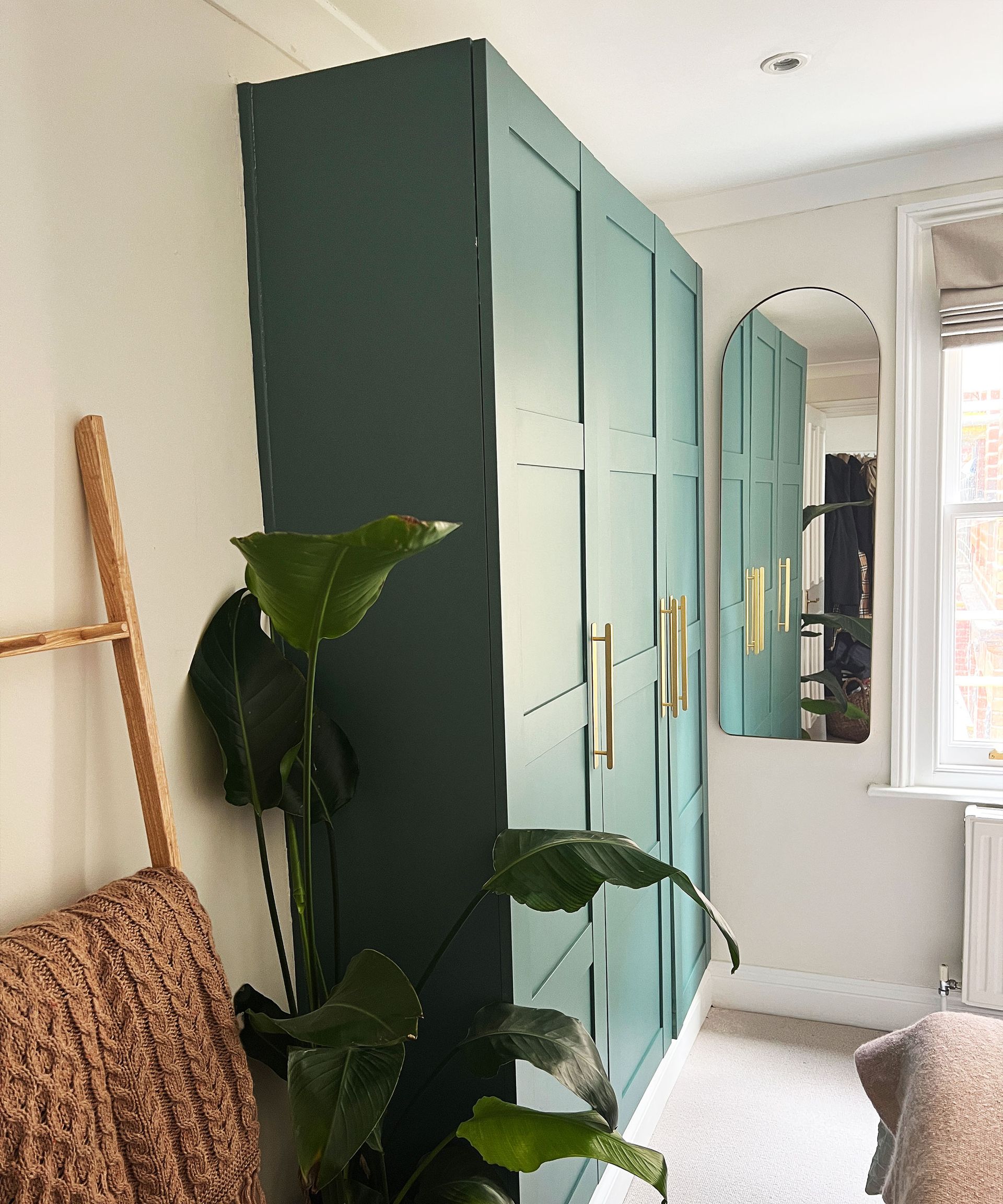 If you are looking to explore painted furniture ideas, maybe this Ikea Pax hack is for you? A stunning example of what can be achieved with Ikea hacks at home, this Ikea Pax project turns a standard white wardrobe into an eye-catching jewel of color and character.
An essential component of designing a bedroom, a closet is one of the largest bedroom furniture ideas, impacting the layout as well as the overall look and feel of the space. Striking the perfect balance between beauty and functionality will ensure that your closet's design can stand the test of time in your bedroom.
In this small bedroom, Diy Doctor Soph (opens in new tab) has used the Ikea Pax wardrobe as the foundation for a smart and stylish integrated closet design. Transformed with colorful Green 04 paint by Lick Paint (opens in new tab), the closet has been finished with Ludlow brass handles and backplates from Plank Hardware (opens in new tab). In order to create a flush fit, Sophia used her DIY skills to raise the closet with adjustable plinth legs and move the trim so the design fits neatly against the wall. 
4. Get creative with your covers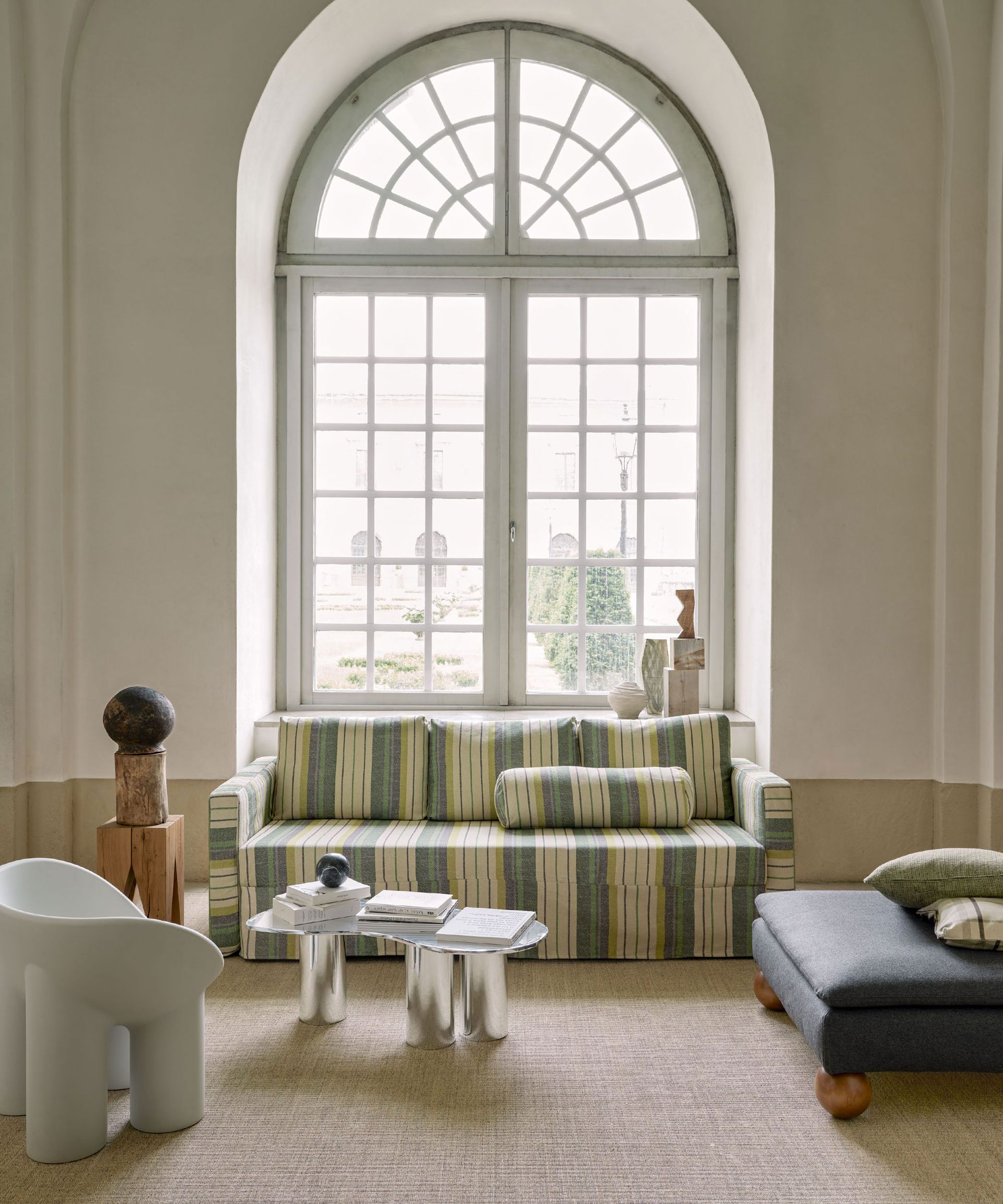 With a specially curated fabric range and an ethos that strives to extend the life of Ikea furniture, the Bemz (opens in new tab) collection of made to order furniture covers can bring identity and exclusive style to your soft furnishings, great for living room sofa ideas.
From sofas to armchairs, footstools to bedframes, these unique cover designs focus on trying to change the way we consume furniture, and show how you can switch up and refresh your current pieces with sustainability and style at the forefront.
Here, an Ikea Vimle sofa has been elevated by a beautiful striped fabric cover and matching bolster cushion, both in Striped Twill, Forest Glade fabric, part of the new AW22 Grounded Heritage collection.
Designed by Filippa Bonde, Bemz's head of product, who says, 'the vision of the Grounded Heritage Collection AW22 stems from the idea to create a nurturing home – a haven to gather thoughts and recharge energy. The collection features carefully selected fabrics imbued with traditional yet updated patterns.'
5. Choose custom doors for your cabinets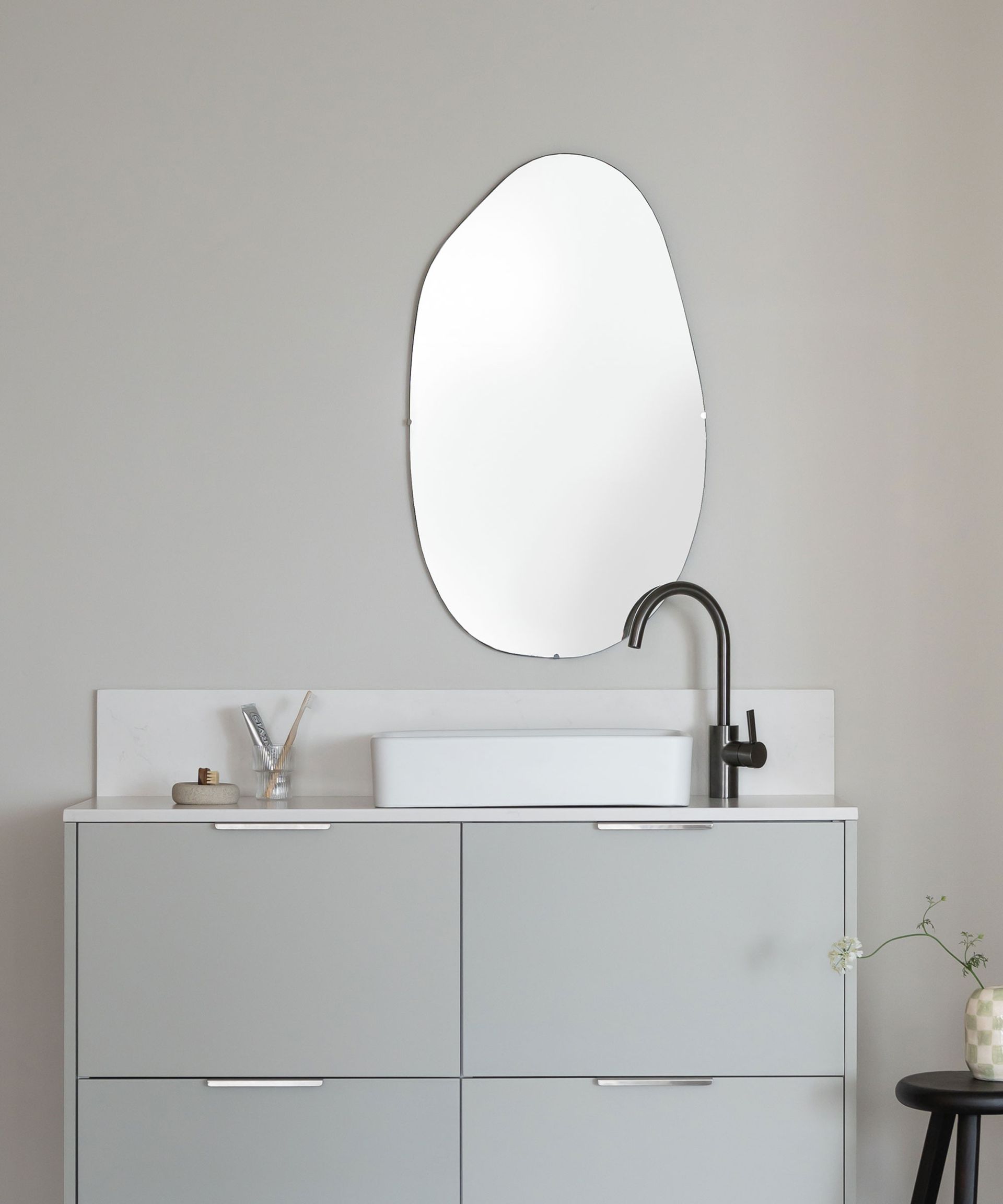 One of the most popular Ikea hacks for storage and cabinet designs throughout the home, updating your doors can be a relatively easy way to give your Ikea product a whole new look, with Fronteriors (opens in new tab) providing a collection of hardware, doors, side and top panels to choose from.
In this bathroom, the Ikea Metod cabinet frames, usually found in the kitchen, have been styled with drawers, cover panels, a plinth and chrome handles from Fronteriors to create sleek, modern bathroom vanity area, a great look for small bathroom ideas.
Kathryn Hawkes, co-founder of Fronteriors, says of this design, 'Ikea's robust Metod cabinetry is not limited to the kitchen. The series offers an array of design options for your bathrooms, with base cabinets in two depths, you can customize a solution no matter how compact or vast your bathroom space is. Create anything from a simple slimline washstand to a full-blown built in vanity of your bathroom dreams.'
6. Celebrate the warmth of wood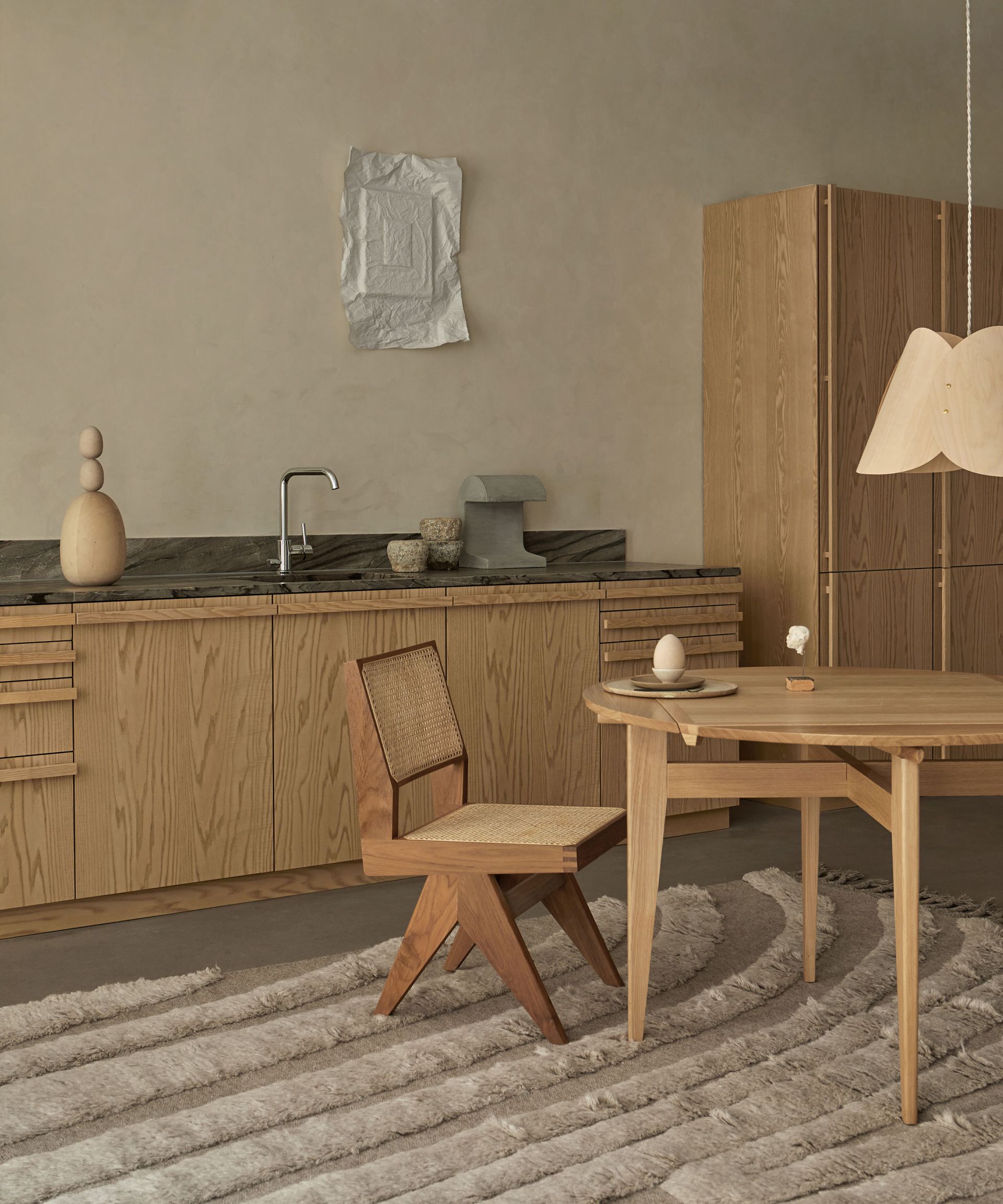 Wood kitchen cabinet ideas will always prove timeless. Bringing in the natural, organic beauty and warmth of wood into your indoor space, the enduring nature of wood make it a long-lasting and durable choice for your kitchen. 
No matter your style or the age of your property, with such an extensive range of wood types, stains and finishes available to choose from, there will be an option to perfectly suit your space.
This kitchen has been fitted with wooden cabinet designs from Superfront (opens in new tab) in the luxurious Biscotto finish, establishing a beautiful, unique, indoor-outdoor kitchen design. With these door fronts and panels able to fit with both Ikea Metod and Faktum frames, the end result is truly impressive.
Monica Born, CEO and co-founder of Superfront says, 'with our designs, you either take an Ikea frame you have at home or choose a new cabinet from Ikea – and then customize it with Superfront sides, fronts, tops as well as handles and legs. This offers an easy step-by-step process to build everything from a small bedside table to a big statement kitchen. For a dramatic look, why not opt for our new Obsidian Wood cabinets which will create a sleek and elegant aesthetic? Or for something a little more pared back, you could go for the Biscotti Wood finish.'
7. Create a central storage space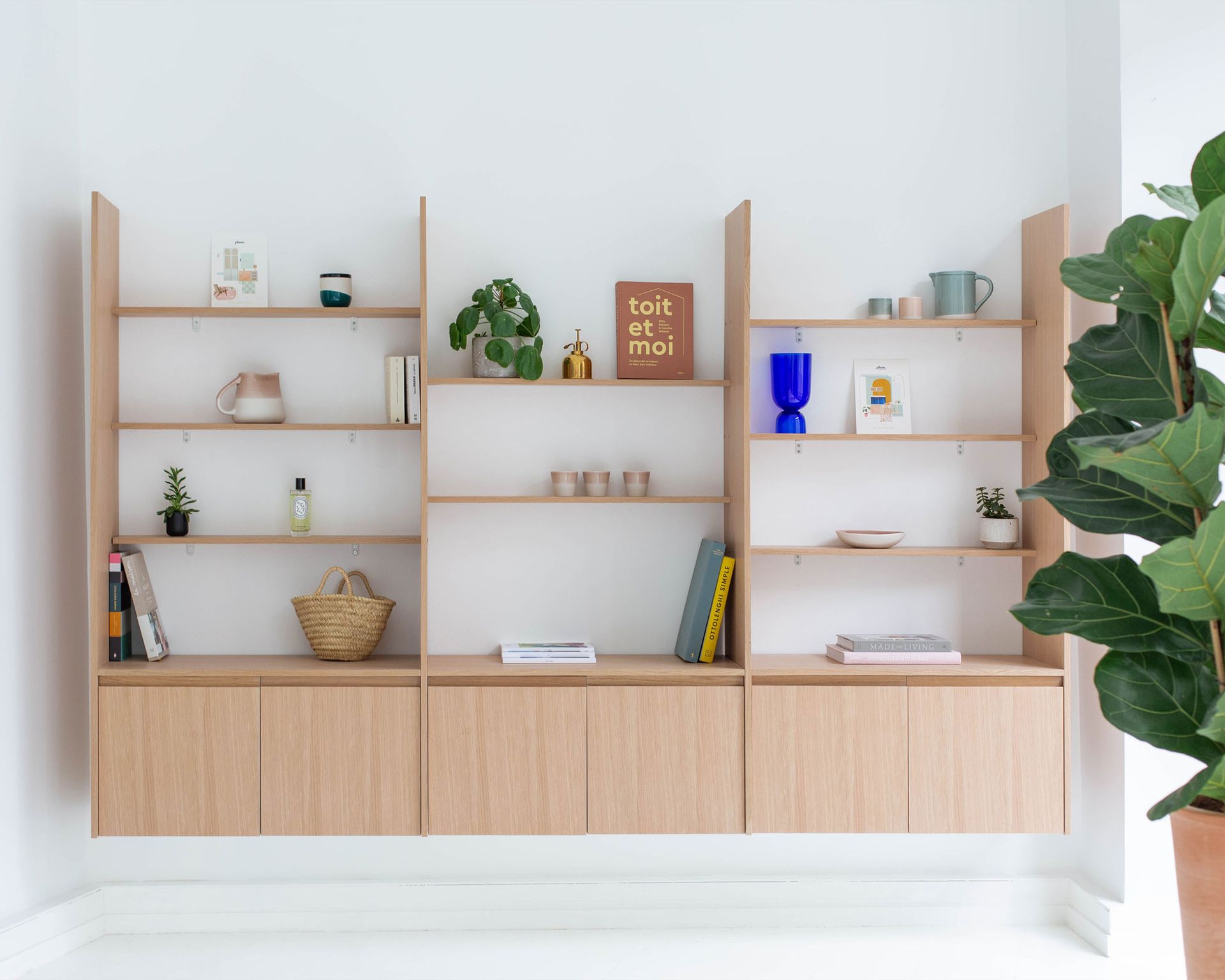 From kitchen shelving ideas to living room shelving ideas, many of us have shelving in our home, a go-to storage idea that can both stash and display our personal items with ease.
Whether you are exploring bookcase ideas for a study, or want to create a central shelving unit in a living room, this Ikea bookcase hack from Plum creates an innovative mix of open and closed storage, with the wooden shelving design establishing a timeless appeal.
Crafted from Ikea Metod frames, and then dressed with panels and fronts in natural oak from Plum Living, the design establishes a clean, simple look that can integrate into homes of all styles.
8. It's all in the details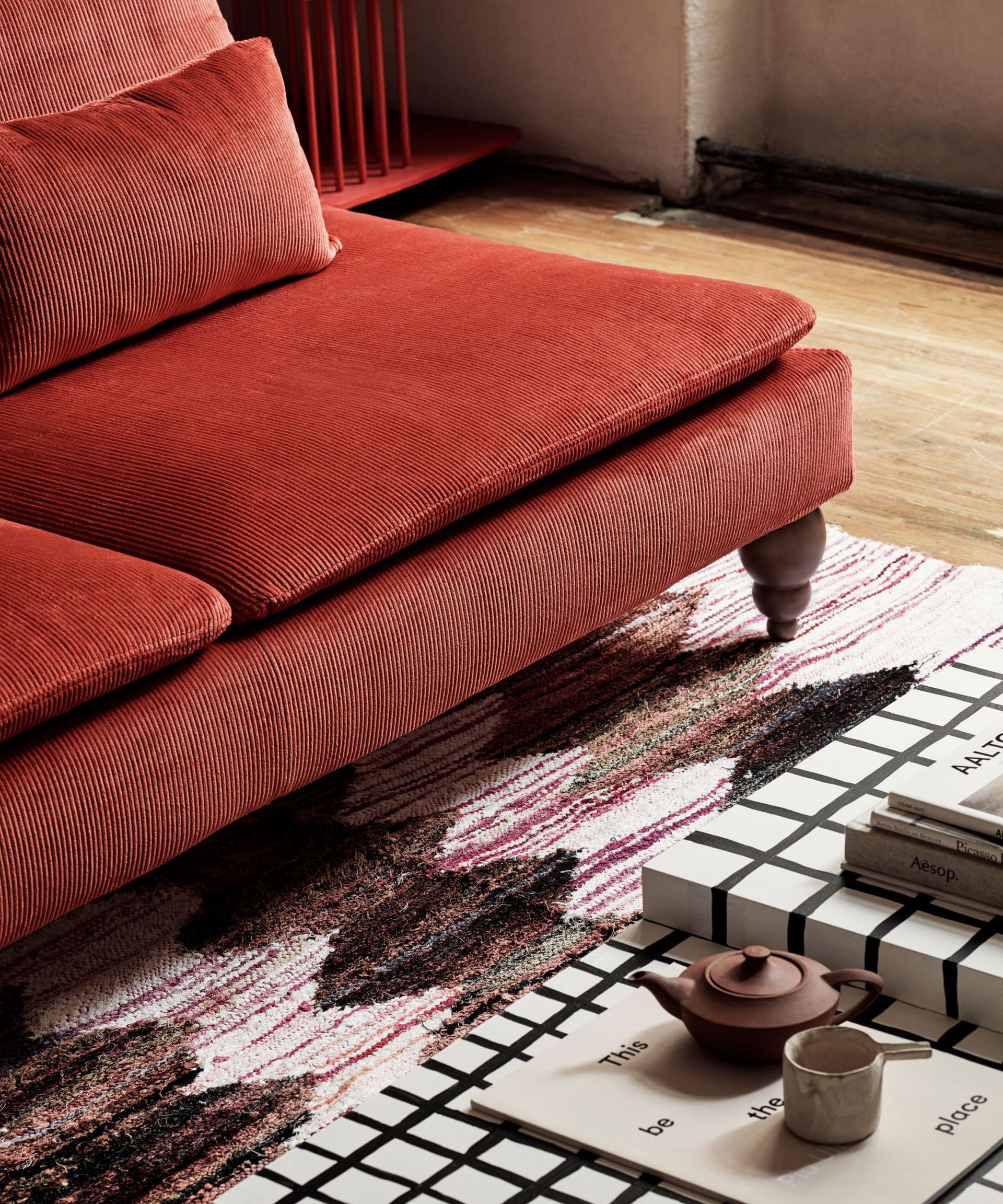 Sometimes it is the smaller, finer details that can really make the difference in interior design. 
From how you style a room with accessories to adding the perfect finishing touches, to the parts of furniture that you think no-one notices, all of these details are important for the overall look and feel of a space.
Whether you want to add a bright color, or create an element of contrast, a new furniture leg can be a simple yet highly effective way to add a luxurious new feature to your Ikea furniture piece. 
This Ikea Soderhamn sofa, featuring a Red Brick Corduroy cover from Bemz, has been further adapted with a new, dark wood Chunky Furniture Leg. Inspired by the work of of legendary designer Terence Conran, the curvaceous design can add a subtle element of style and sculptural impact to your Ikea sofa.
9. Complement your frames with stylish doors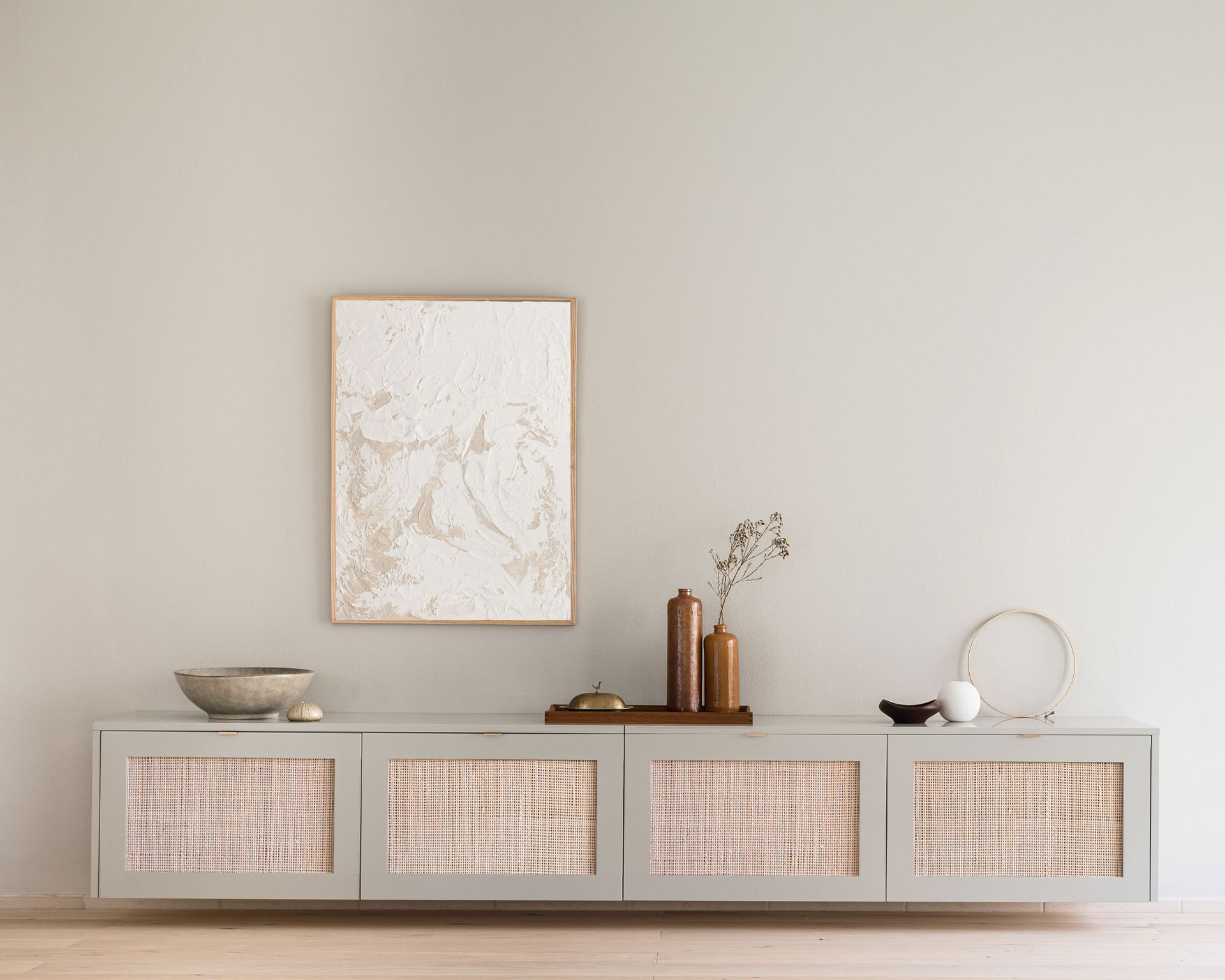 As we have explored, choosing new doors for your Ikea furniture pieces can transform the classic appearance of many popular designs, so why not take this one step further and choose a door design rich with beautiful texture and material?
Here, the bestselling Ikea Besta storage system has been transformed with gray doors from Fronteriors, featuring the Cane Radio Weave design. Adding natural, organic texture and a more classic character to the sleek structure, the overall design can work beautifully as a stylish sideboard or media unit, ideal for living room tv ideas.
10. Think outside the box with your wall decor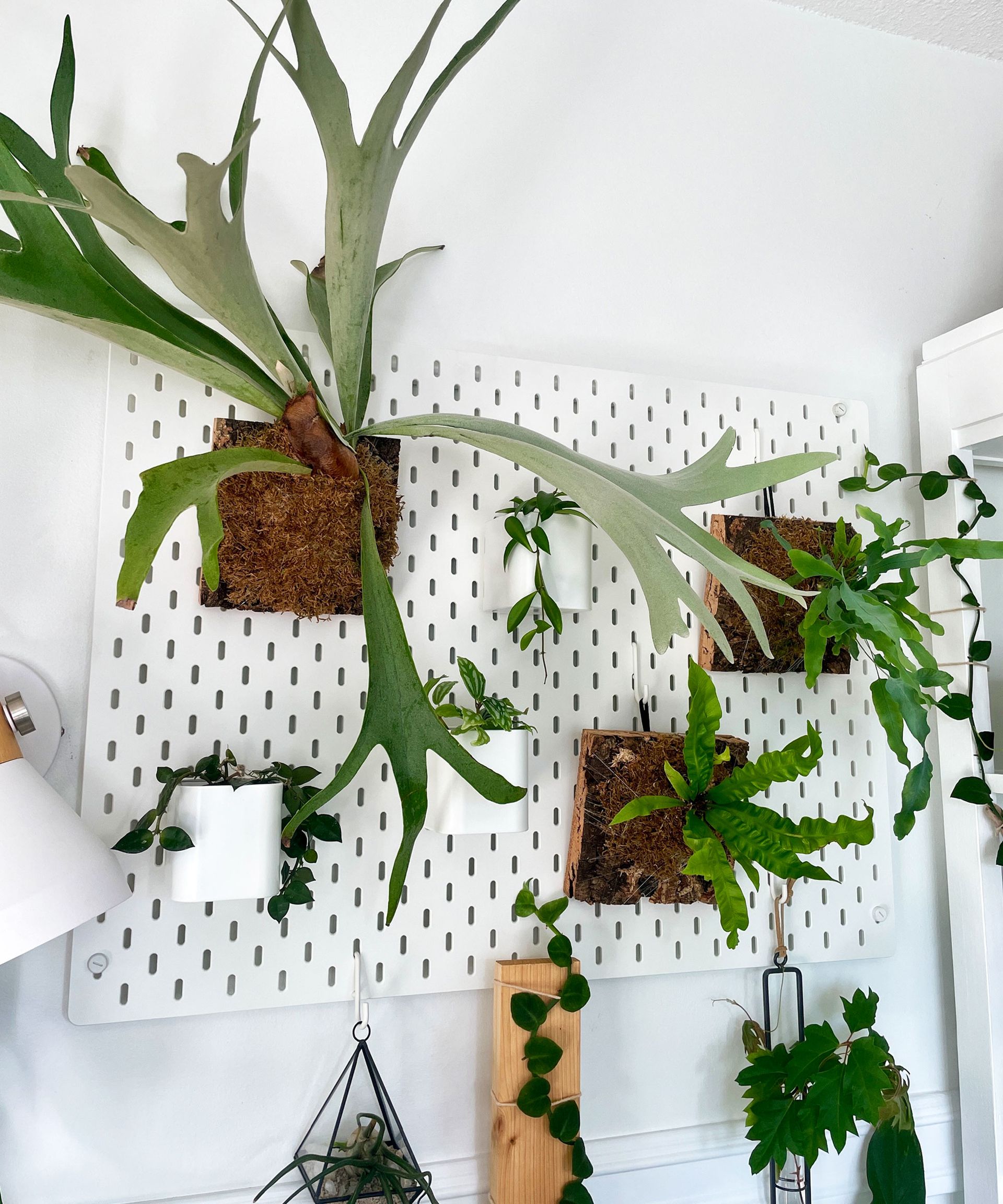 Wall decor ideas provide a chance to get truly creative, allowing you to curate artistic, meaningful displays that reflect your style and personality.
If you love decorating with plants and are struggling to find ways to transform a blank wall in your home, we have the perfect hack for you.
Here, Alana Ruhl (opens in new tab) has used the Ikea Skadis Pegboard as an innovative display device, uniting her love for houseplants with the need to find a practical way to hang and display them in her home.
She says of the design, 'I have always loved the look of mounted plants, as if they're growing on a tree in nature. I also like to rearrange them as they grow and to change things up. This resulted in many nail holes and damage to the wall. After searching for a solution, I came across the Ikea Skadis Pegboard. It was simple to install and the mounted plants now hang on hooks and can be moved around very easily. As well as the hooks, there are many accessories one can add, such as the utensil containers that of course can serve as plant pots as well.'
A design that can beautifully showcase your plant collection whilst providing you with the flexibility required as they grow and change shape over time, this pegboard design can create an eye-catching plant wall in the home.
What is a furniture hack?
A furniture hack, put simply, is changing the appearance of the original design of a piece of furniture. It is a way to personalize and add character to a design, making it feel utterly unique.
From a simple coat of paint on a chest of drawers, to simple accessory additions that can transform the look of a sofa, many furniture hacks can be cost-effective ways to create beautiful, original designs that do not break the bank.
There are many companies and brands that specialize in furniture hacks, and particularly Ikea hacks, providing unique accessories and products that can beautifully enhance your pieces of furniture. 
With a range of creative hack ideas easy to complete at home, there has also been a rapid rise in furniture hacks being shown on social media platforms, such as Instagram and TikTok, providing users with bags of creative inspiration for their furniture designs at home.
How can I make my Ikea furniture look more expensive?
There are many ways to make your Ikea furniture look more expensive.
Whether you transform the look of a wooden cabinet with paint, or simply add new handles to a closet, there are many subtle and impactful ways you can alter a standard Ikea design.
One of the most popular hacks is to buy Ikea frames and choose new, bespoke fronts and doors, combining the long-lasting practicality and simplicity of Ikea design with a stylish new upgrade.
Ultimately, working out how your piece of Ikea furniture can feel fully integrated in your scheme, whether that's making tweaks through color, material, size or shape, can elevate its look and make it feel more original, unique and luxurious.